Well as some read in the ride report yesterdays ride resulted in the clutch refusing to disengage. Farted around with it for a while yesterday only to decide to have it towed home. Well later in the day I got a call back from VTCycles and he had a possible solution to the issue. He thought it might be the clutch release rod either coming out of the square hole in the pressure plate or the square end snapping off and suggested I pull it out and check. Well at 8:00 a.m. this morning at 16 degrees F I headed out to do that very thing.
Dressed in several layers to try to keep hypothermia at bay out I went.
May the surgery begin.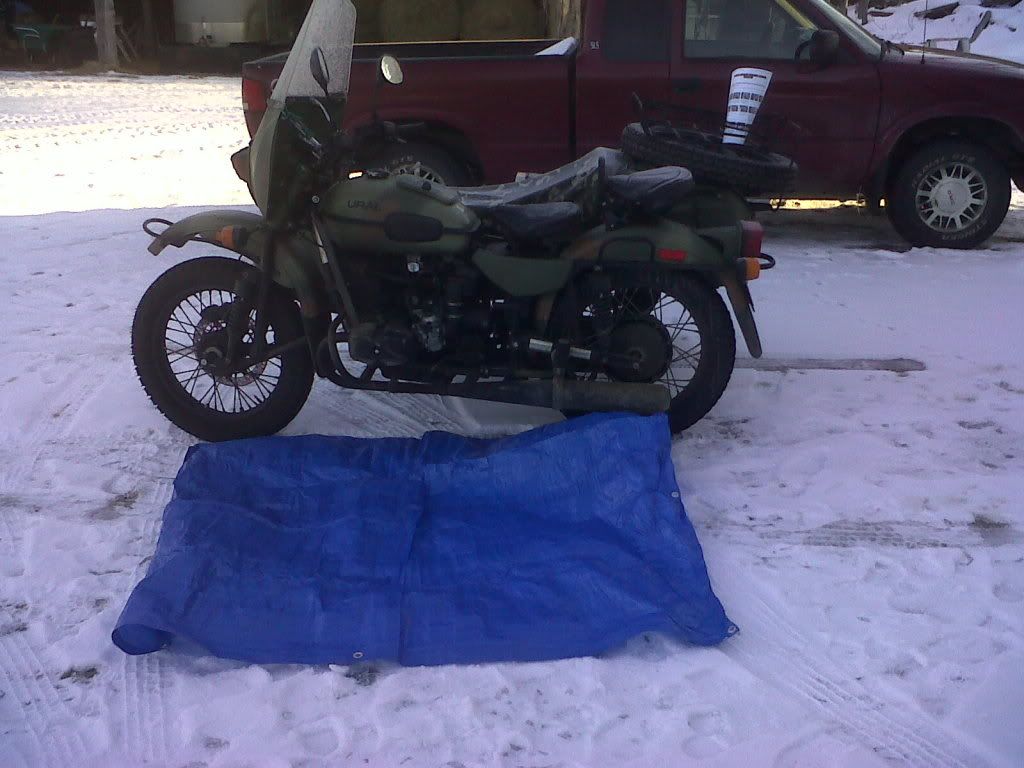 Ok I had read the process on BillyG's site and wasn't looking forward to pulling the trans out be he said you could do it in the bike, with the FD and rear tire and battery removed.
Lets see what we can accomplish with as few parts coming out as possible.
Side cover and coil out of the way.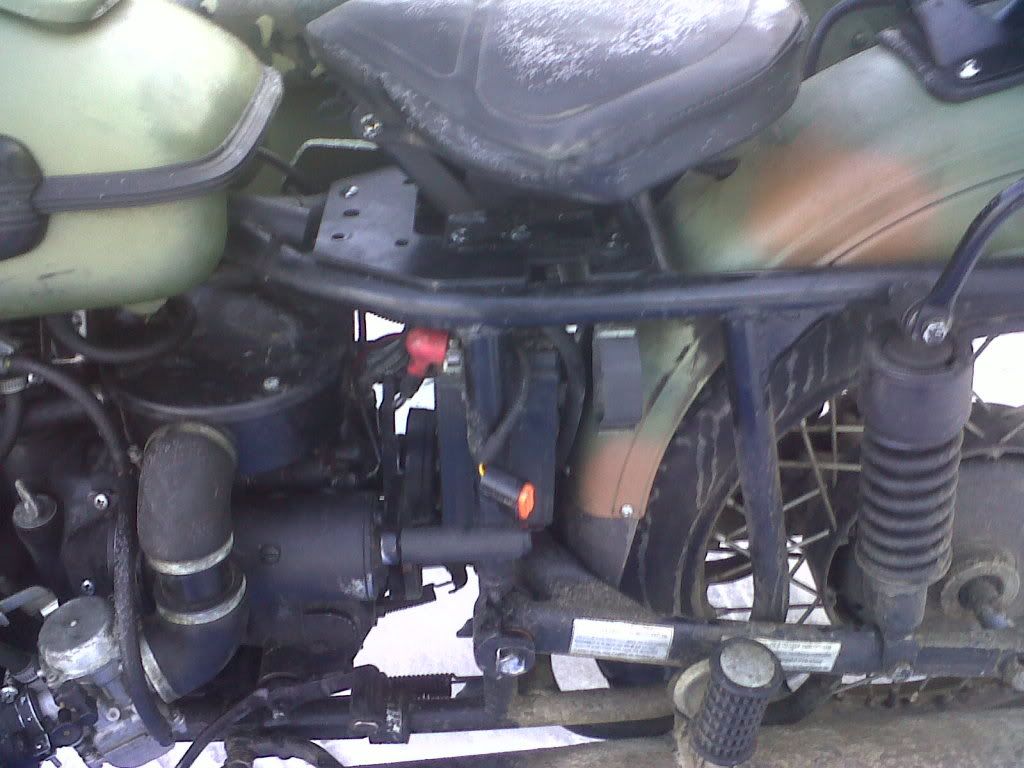 Air box out of the way....have I said before how much I hate that thing.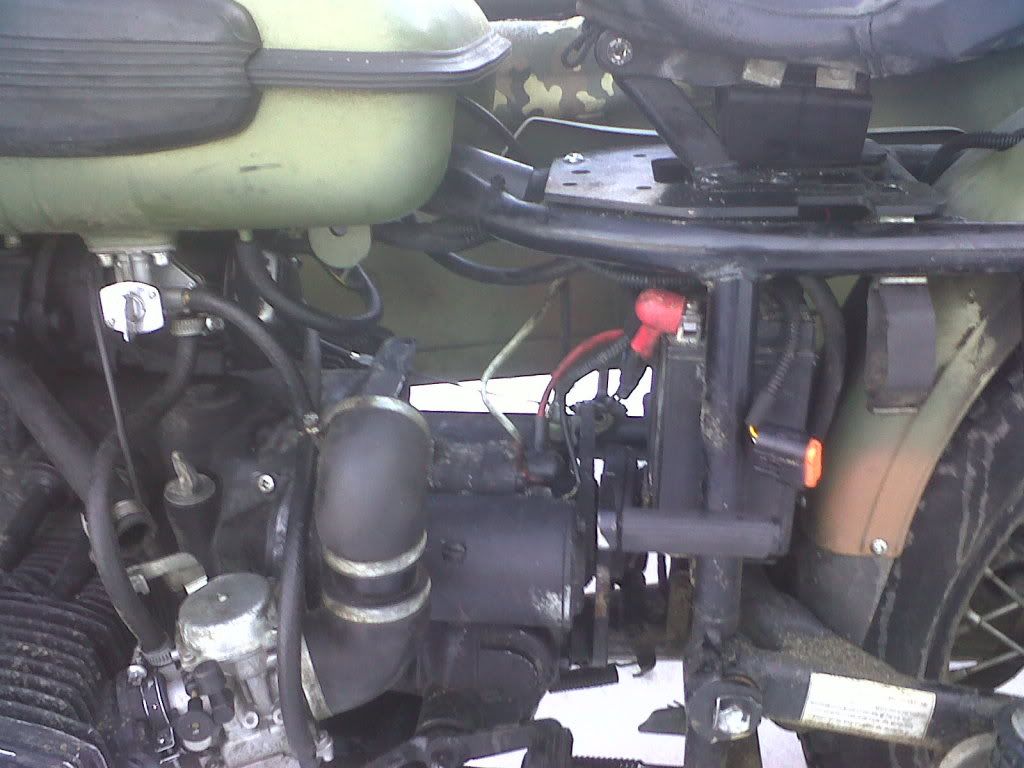 Carb off and starter out of the way.....starting to build a pile of crap.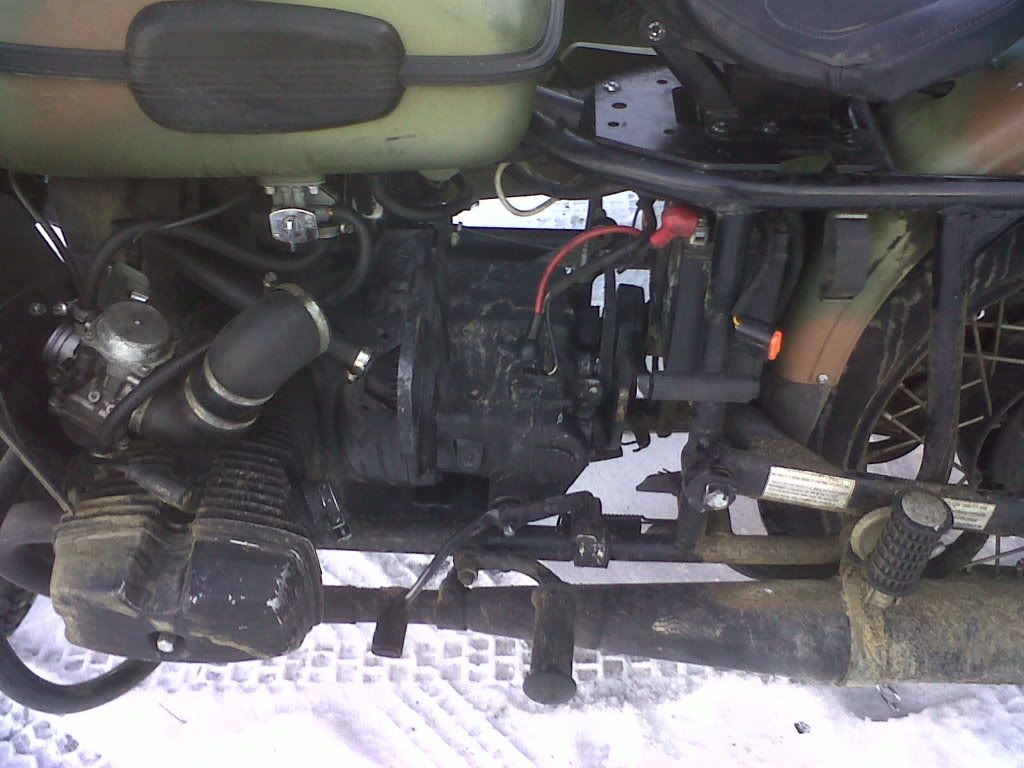 Don't ask about the drill it was not a nice morning and I still have to finish drilling that bolt out and replacing it. Frigging allen bolt on the seat plate stripped making it a round bolt. Will be drilling it out and using a hex head in its place.
Speedometer cable undone, clutch cables removed, clutch release arm removed....we're getting there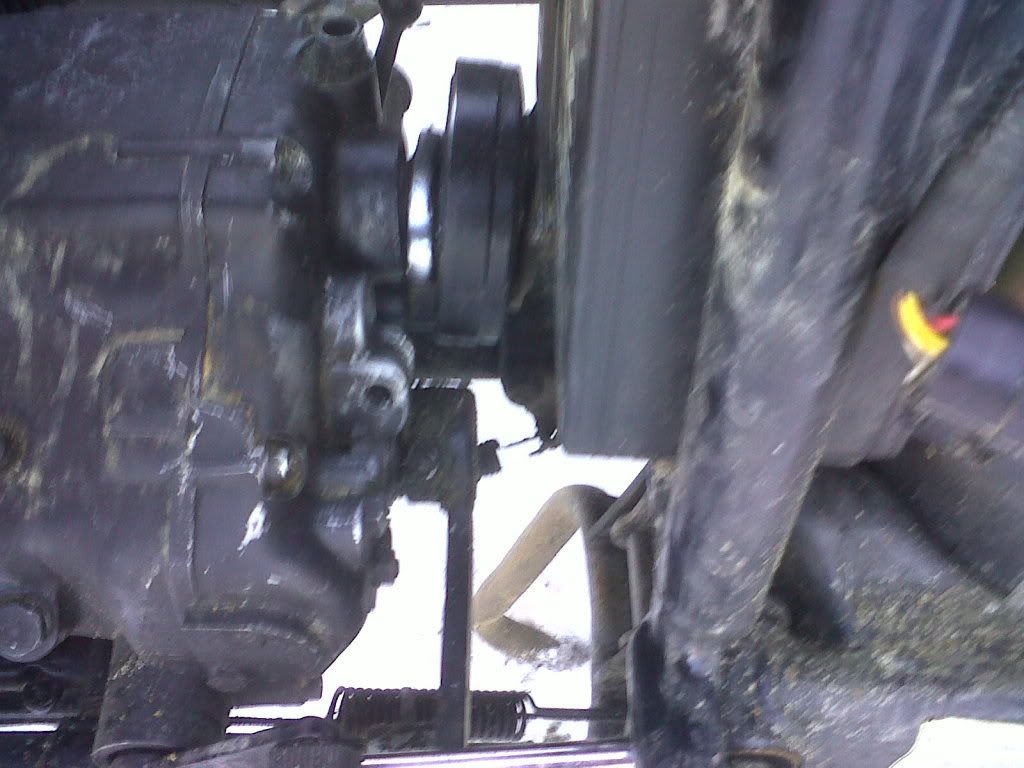 Now it says on MYURAL that the fd & rear tire need to be removed to do the next part.....but if you take your time it can be done with both still in place.
See the fd and tire are still on it.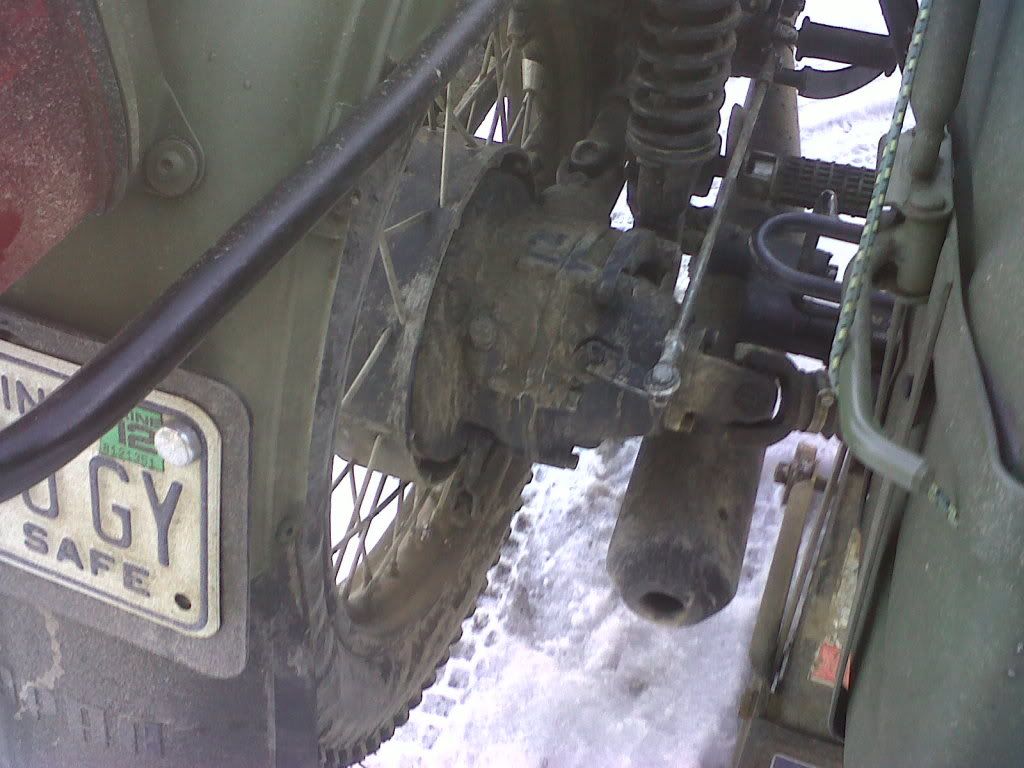 Might be easier if the donut was out of the way as it's a tight fit past the swing arm but if you take it apart as you take it out it will clear. Managed to get the whole thing out and guess what. the clutch release rod is fine nice square end no mushrooming at all. (CRAP)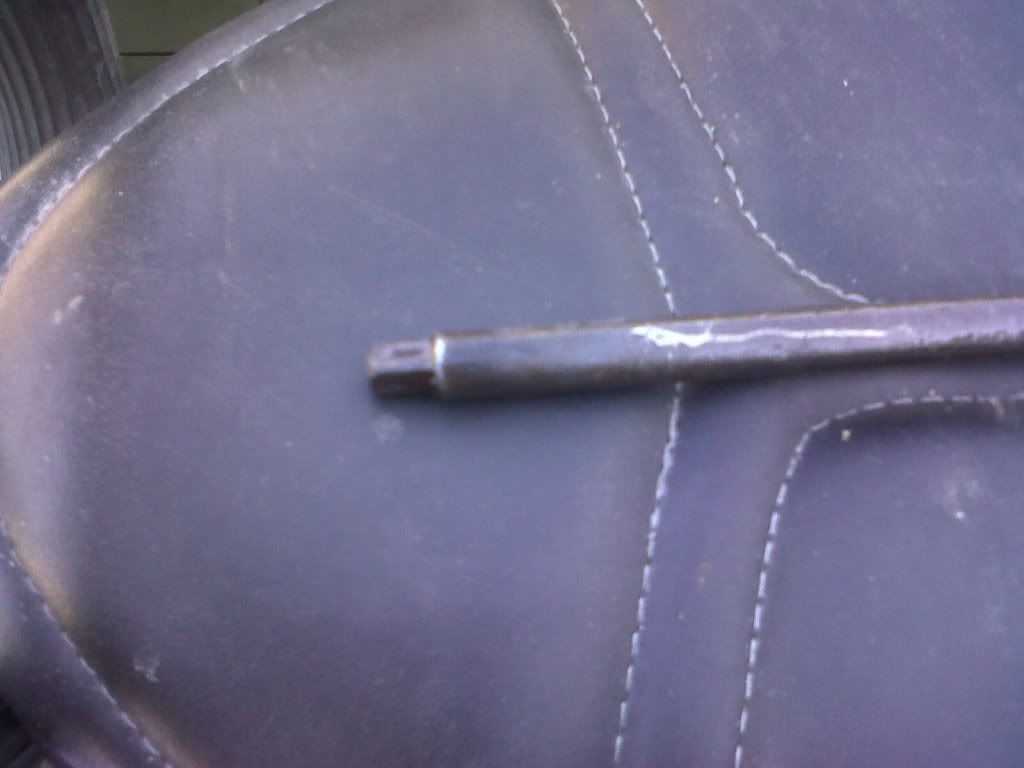 Well maybe it just wasn't seated right and if I put it back and be careful to make sure the square end is in the square hole of the pushplate it will work....hope hope hope...
Well it only took me an hour and a half to put everything back together and guess what?
It's still Phucked. The plunger at the back of the tranny just doesn't come out and there is no way to make it go in any further as it's bottomed out so with no movement I got no clutch. My guess at this point is something let loose inside the pack like maybe a spring or two. I'm cold. I'm tired. The bike is under warranty and I'm done farting around with it. It's going back to Bill to be fixed. Either that or I'm seriously tempted to look into the lemon law in Maine as this is starting to get ridiculous.
500 km's valve cover gasket blow out coating me in oil.
1500 km's sump gasket blew out coating me in oil
2000 km's valve adjusting nut comes off and flies around inside the valve cover.
6000 km's compliance fitting disintegrates and is replaced at my cost to get a better one.
9700 km's bearing race comes apart inside the engine.
10,012 km's clutch ceases to function.
Did I buy a Ural or an AMC era Harley?
In 2 days I will have had the bike for a Year. It's been down 2 1/2 months and counting at this point.