Almost everyone showed up Thursday afternoon or evening. Don and Linda from the Fargo, ND area had planned to camp with their motorhome at a local park. But it was Fennimore Fun Days and the carnies had taken over that whole area. Don stopped by Napps Motel (
http://nappsmotel.info/
) where we were staying and before I knew they were there Mike (owner if Napps) had talked to Don and told him to park his rig in the street across from the motel. Mike even offered to run a power cord out for Don to use. That is the type of people Mike and Maria are, they go totally out of their way for their family. Yes I said family because once you stay there that is what you are.
Those of us that were there Thursday evening then went to a local restaurant for supper and as always it was another fine meal. Then it was time for a little tire kicking before getting ready for riding on Friday.
When I checked my e-mail after getting up on Friday morning I saw that ChicagoRandy was going to drive up and join us for the weekend. Randy was one of the first crazies to join Nancy and I 11 year ago when we started doing this. I asked Steve if he would mind having a hack monkey for the weekend. Steve was thinking about it until I told him who was coming and need a seat. So Randy gat to play monkey for the weekend instead of following along behind in his SUV.
So now it was time to go grab a quick (ya right) breakfast before Eric and Becky showed up. As we were getting the bikes fired up for breakfast my phone rang and it was Mike Schwab calling. He is another one of the crazies that used to ride with us before he sold his Ural. We talked about what was going on and he wanted to know where we were riding to on Saturday. After talking for a while more he said that he would call me back. He called back as we were finishing breakfast and wanted the number to Napps. I had to call him back once we got back to Napps. The bad news for Mike and Randy was Napps was booked full Friday night. Randy had found him a room up in Boscobel which was 12 miles away. Mike said he and Lenny would meet us for lunch on Saturday.
By this time Eric and Becky had showed up and were ready to ride. Fridays route had us heading to the spot on the map of Gunder, Iowa to the Irish Shanty for lunch.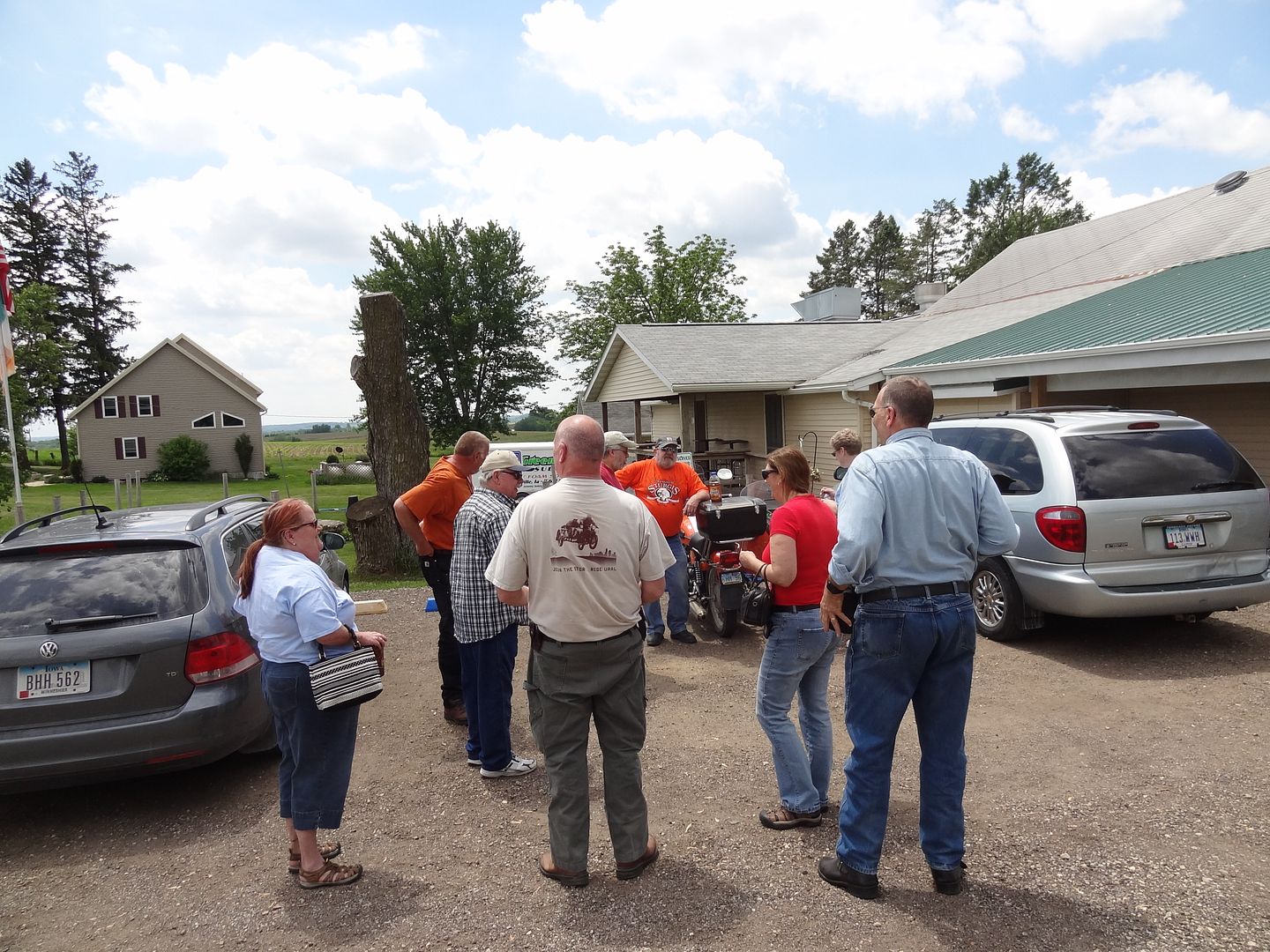 Here is Eric first on to the door.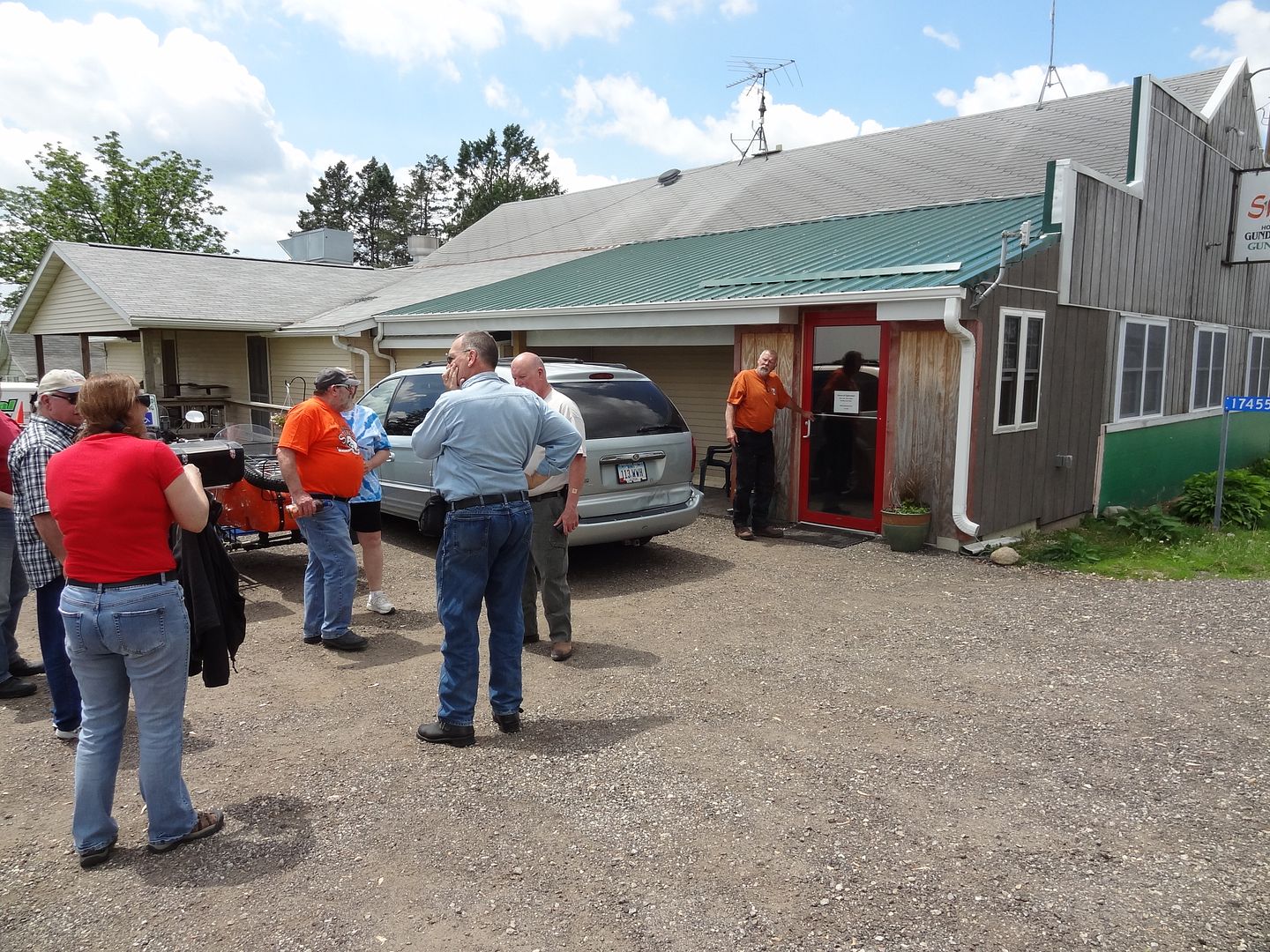 Steve and Randy ordering lunch.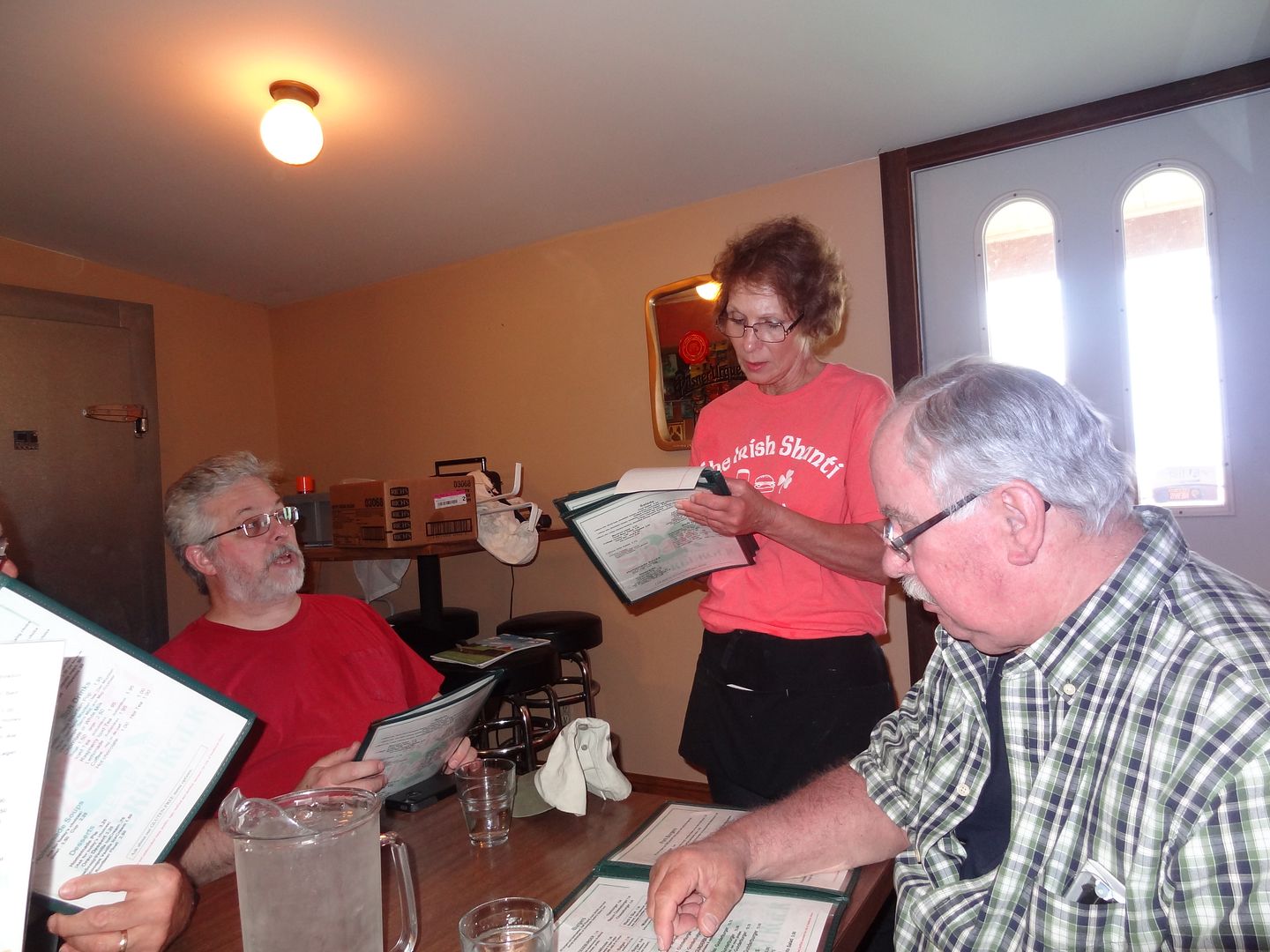 J and J (my memory, Nancy< is not here right now) form Sherrill, Iowa, getting ready to tackle their lunch.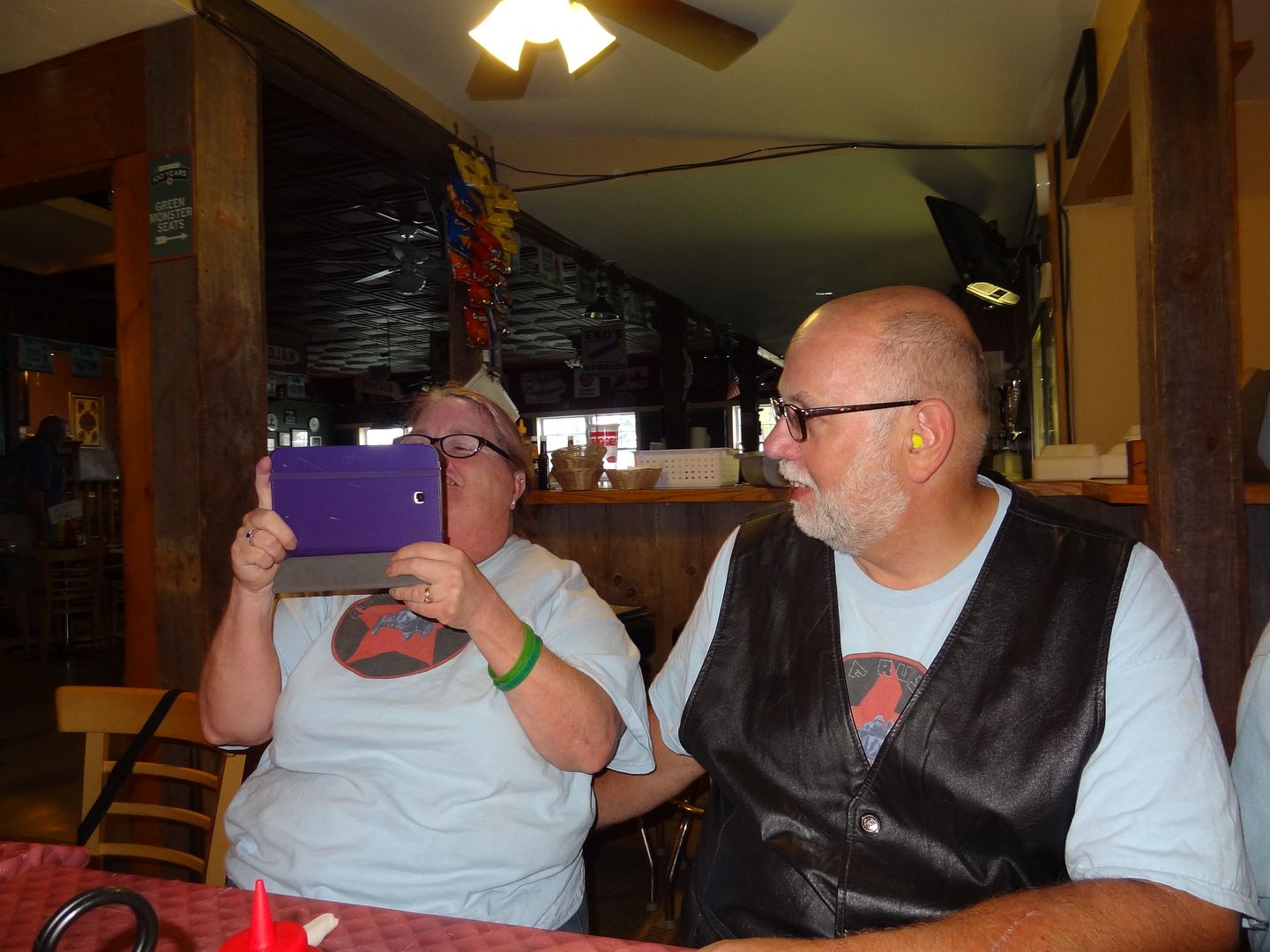 Eric and Beck getting ready to share a famous Gunder Burger with Don and Linda looking on, while Mrs. J get a photo.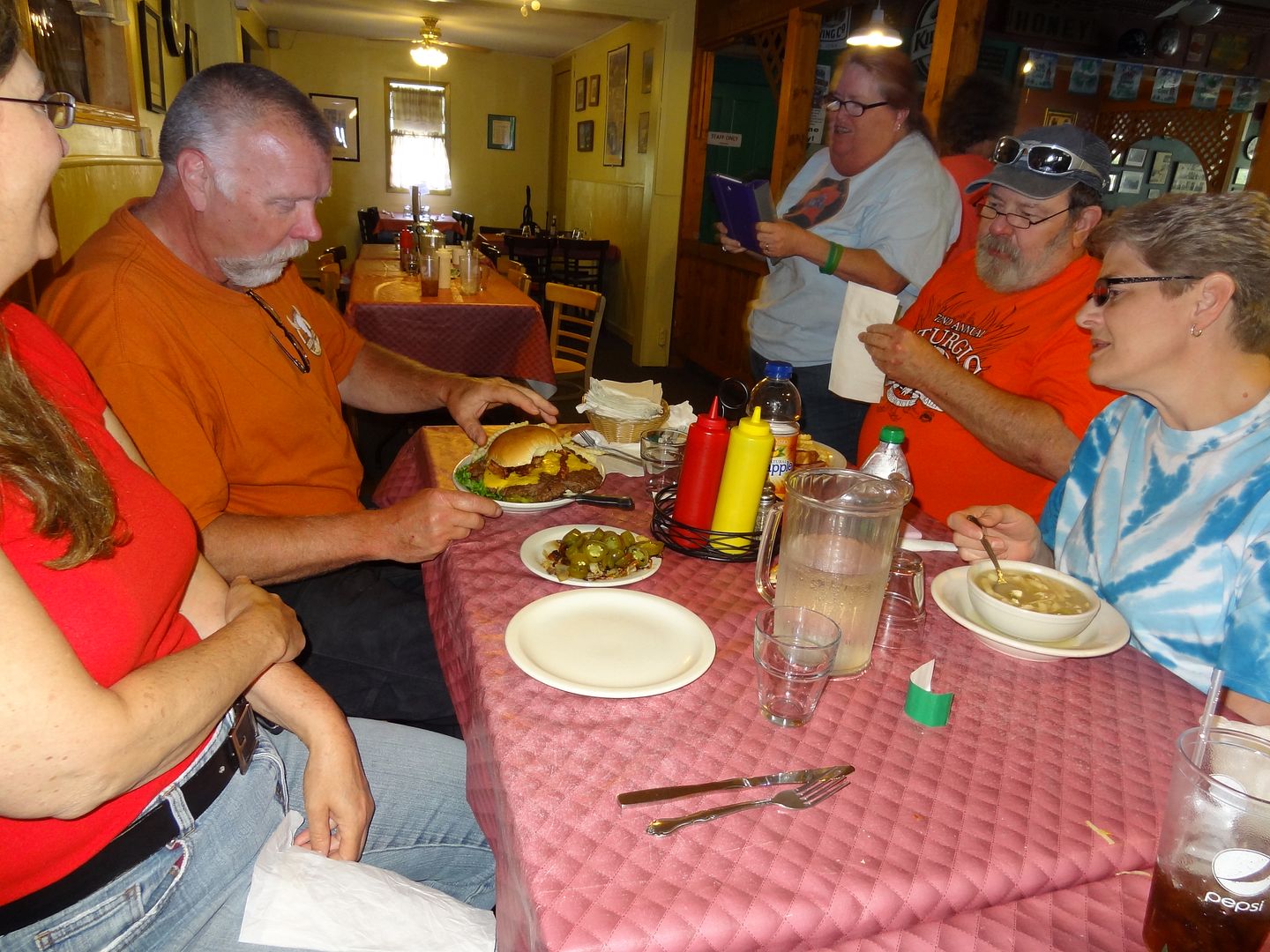 Now it is time to pay the piper for lunch.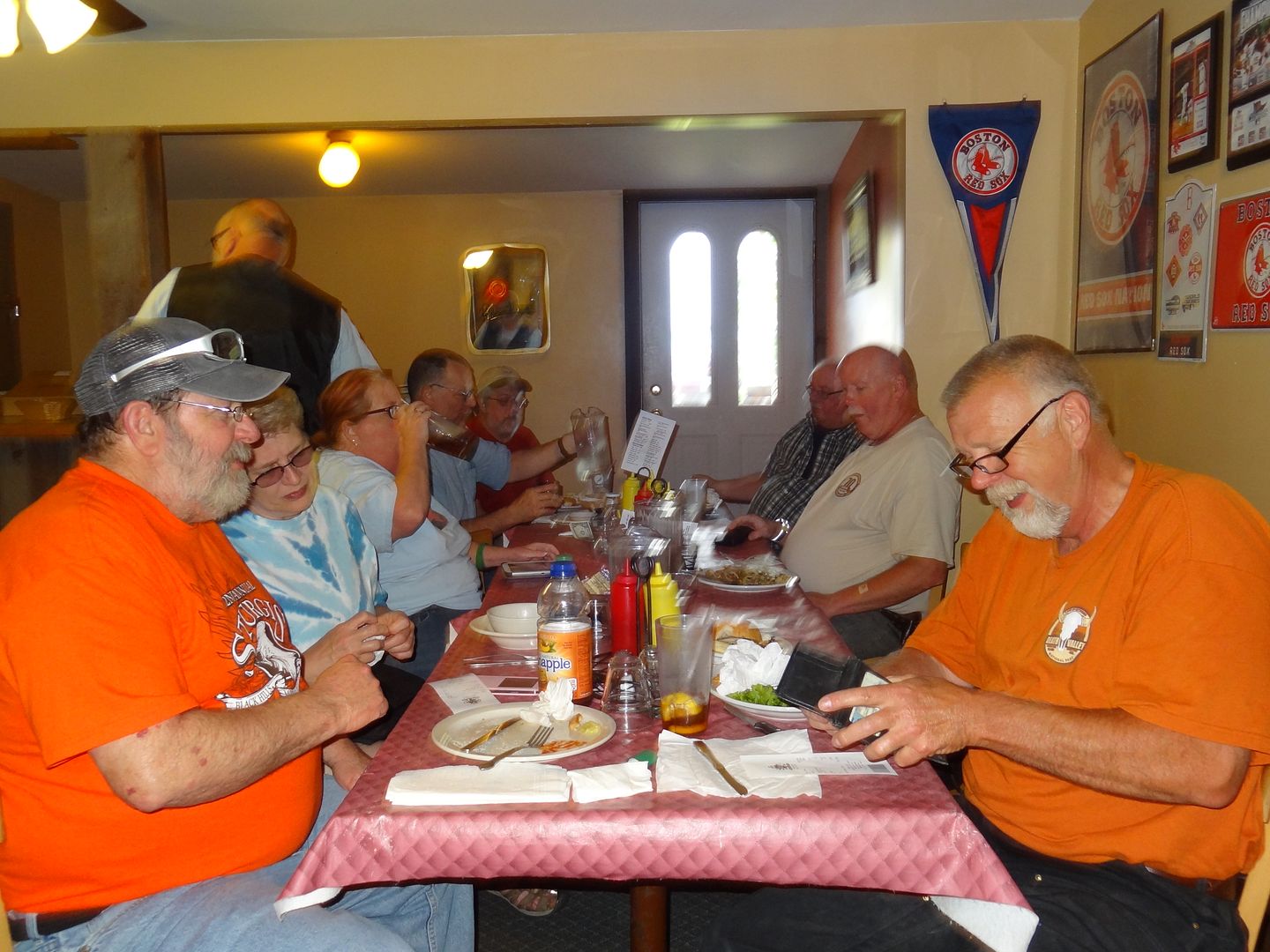 As we were just finishing up our Friday night supper at The Cottonwood Restaurant Dave and Karla showed up from the St. Louis area.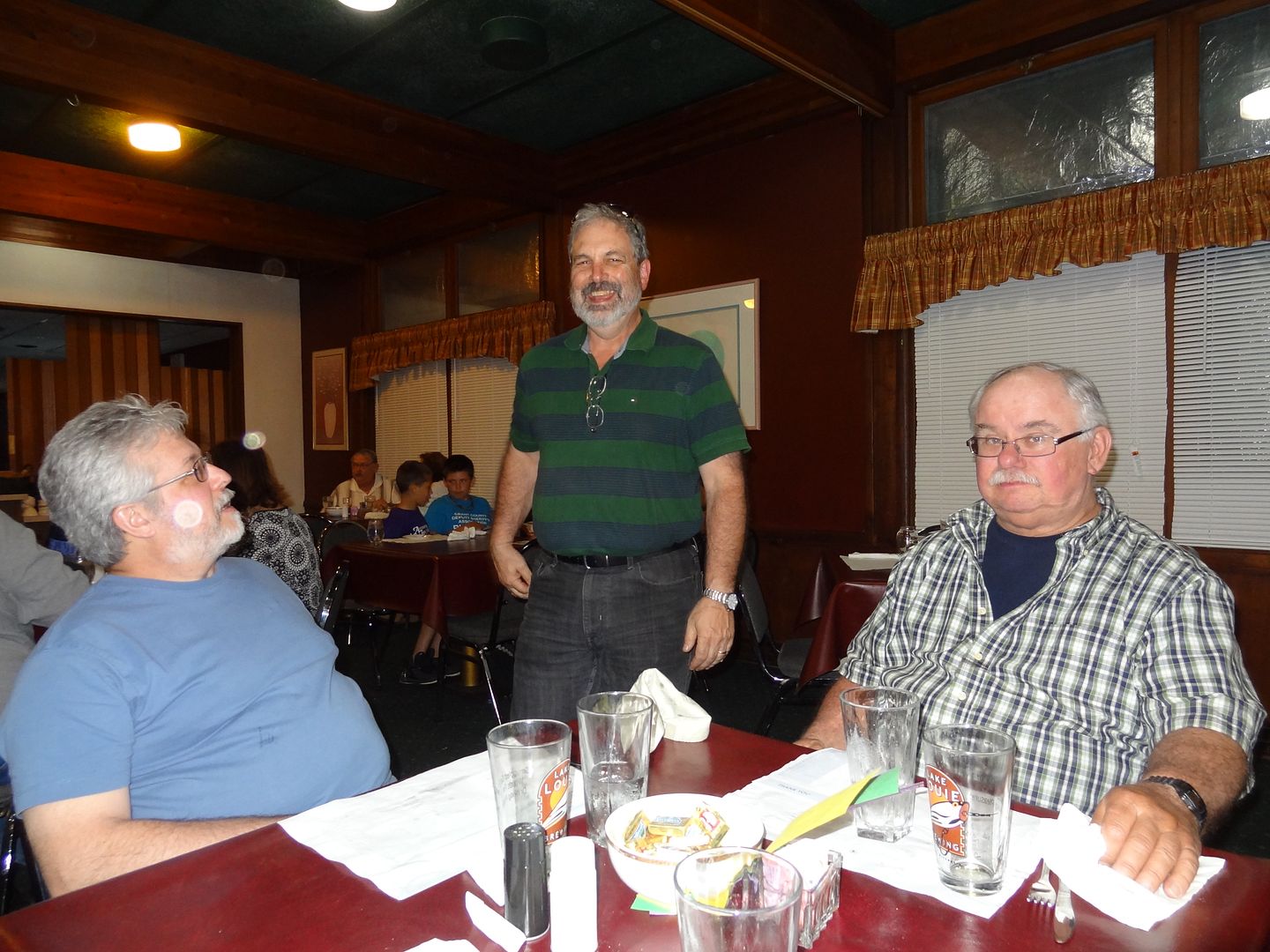 Hey who stole my camera? Nancy and I at supper.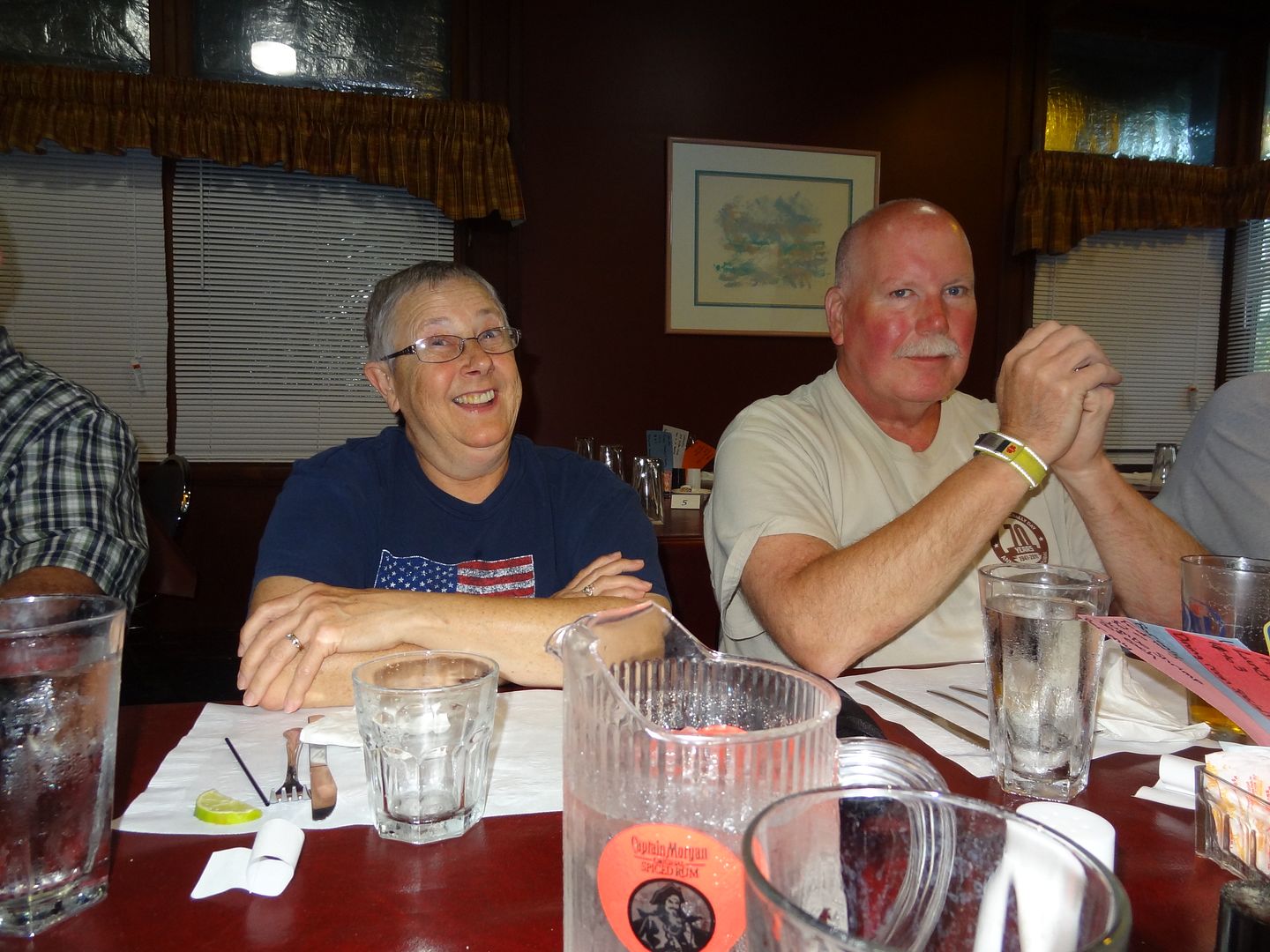 Two photos of us kicking tires Friday night in the parking lot.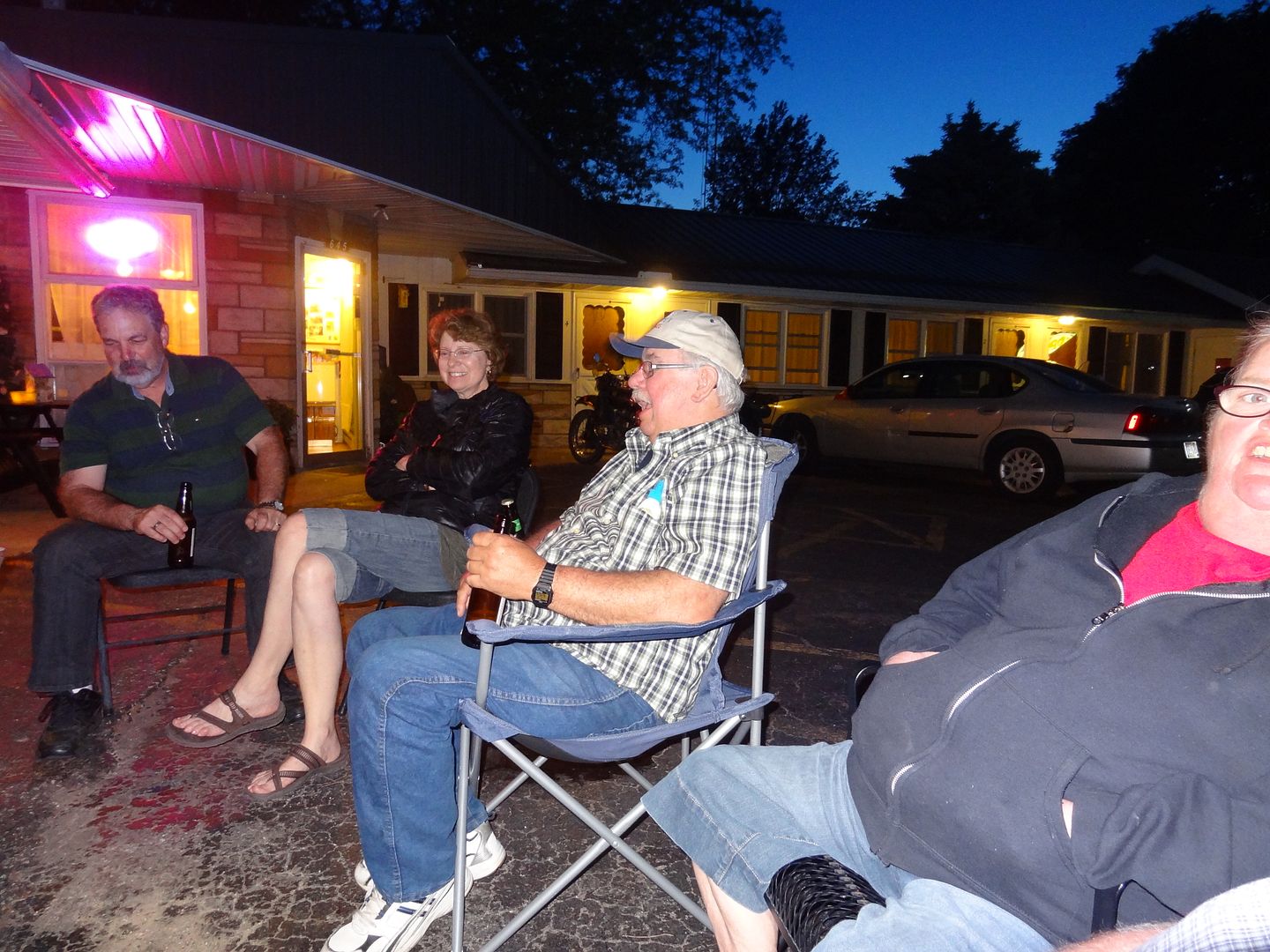 Saturday morning put us on the road again heading to New Glarus, Wisconsin. Don and Linda headed for home as Don has some health issues and I wore him out on Fridays ride. It was the longest ride he had ever done on the Ural.
UDF in New Glarus after lunch.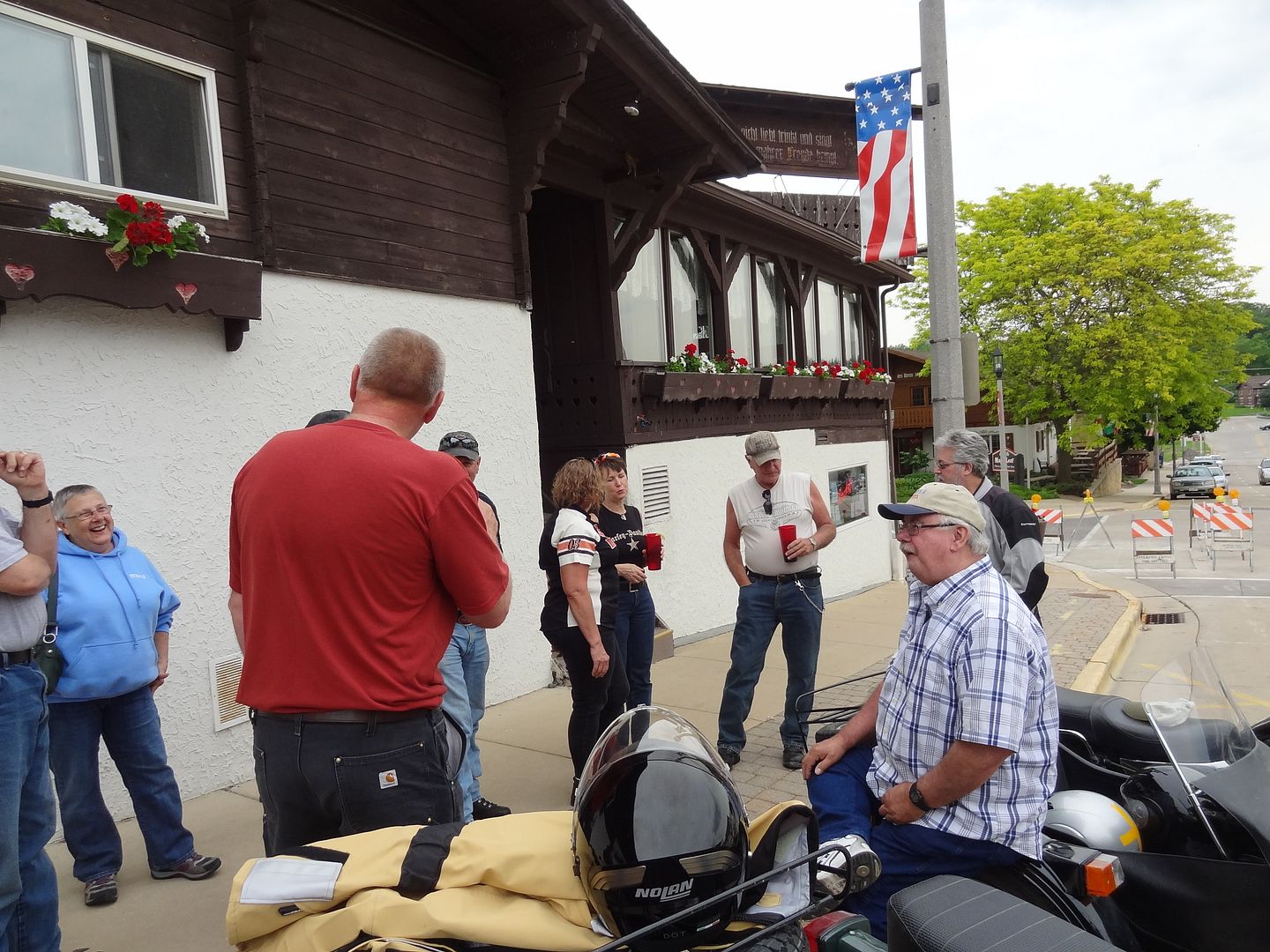 Dave and Karla's Ural, it was the oldest one there and a proper Ural with 3 drum brakes plus total loss.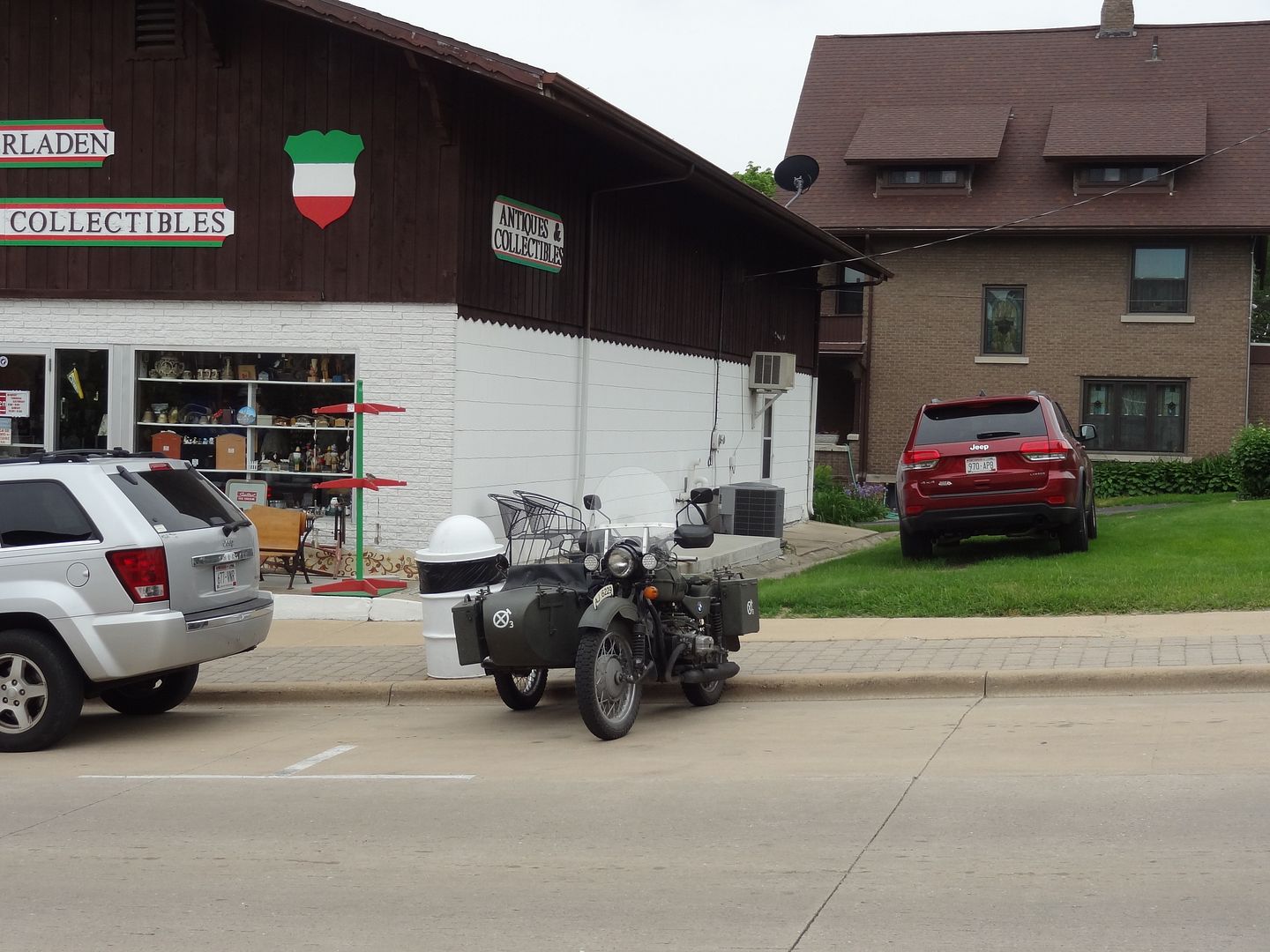 We knew weather was going to be headed in and we might get wet going back to Fennimore so I toke a more direct route back than I planned so we missed out stop in Moscow. When we got back to Napps they had their float ready for the parade that evening.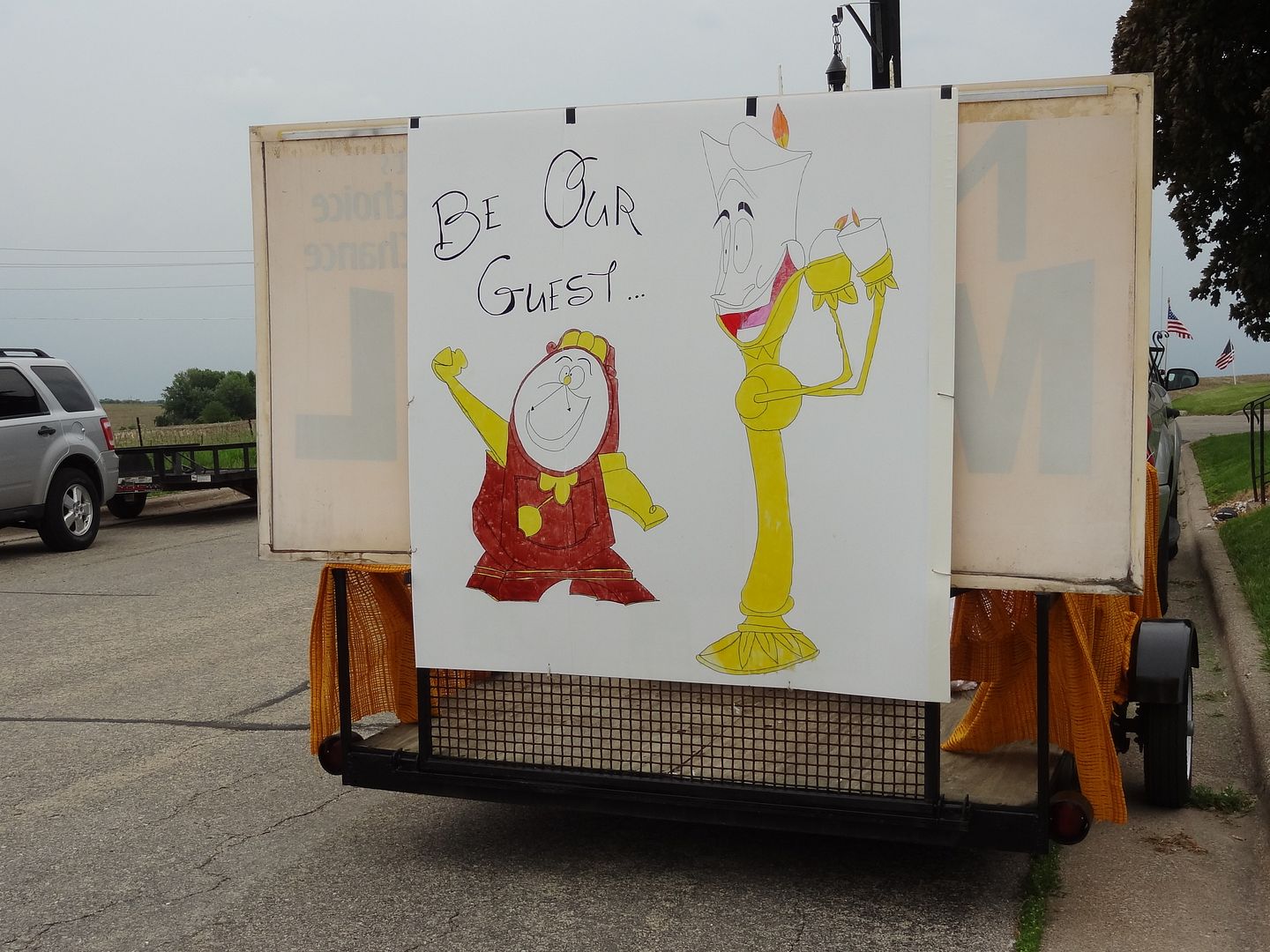 Here is Eric and Becky laying in supplies for our Saturday tire kick.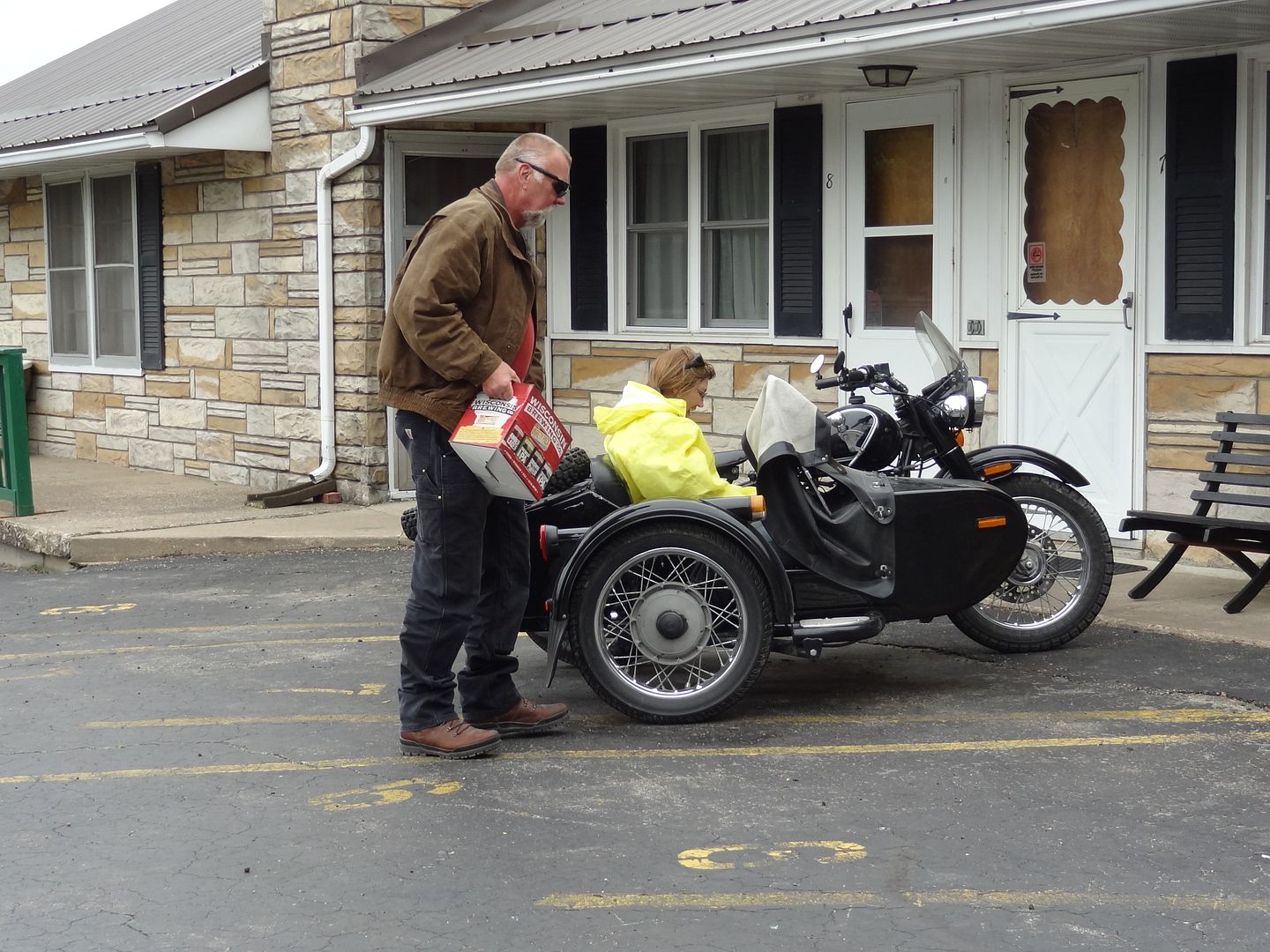 We knew this was going to happen.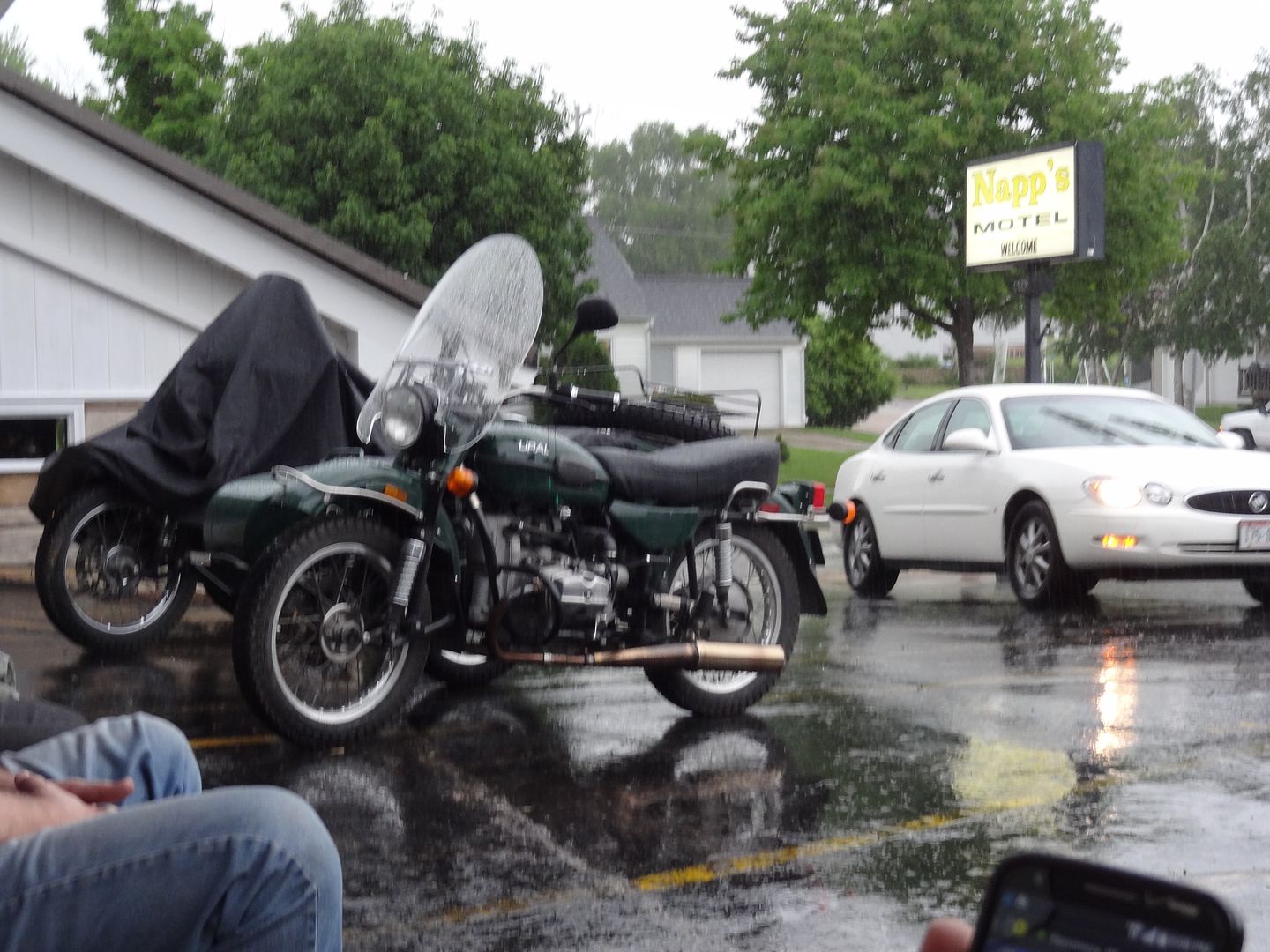 Mike and Maria had offered us the use of their banquet hall for the evening. I asked if it would be OK if we order some pizza. So that was our supper on a rainy Saturday evening.
As we were finishing our pizza it was time to get down to our "business meeting". The first order of business was having a vote to see who won the coveted and famous Jay Gray RPOC award. This is a traveling award that has been missing for several year and Mike Schwab brought it with him at lunch. So the lost is found much to John dismay. But the Urals are so reliable anymore we had to take a vote on who got the award. The entries were Scott for a loose clutch cable, Steve for a leaking FD seal that was oiling his rear brake. Or the winner John for having electrical issues and not having a head light or turn signal most of the day. It was a tough vote.
Then it was time for door prizes. First up is was Karla's birthday so she got a special prize. Nancy and I picked up a bottle of wine for her.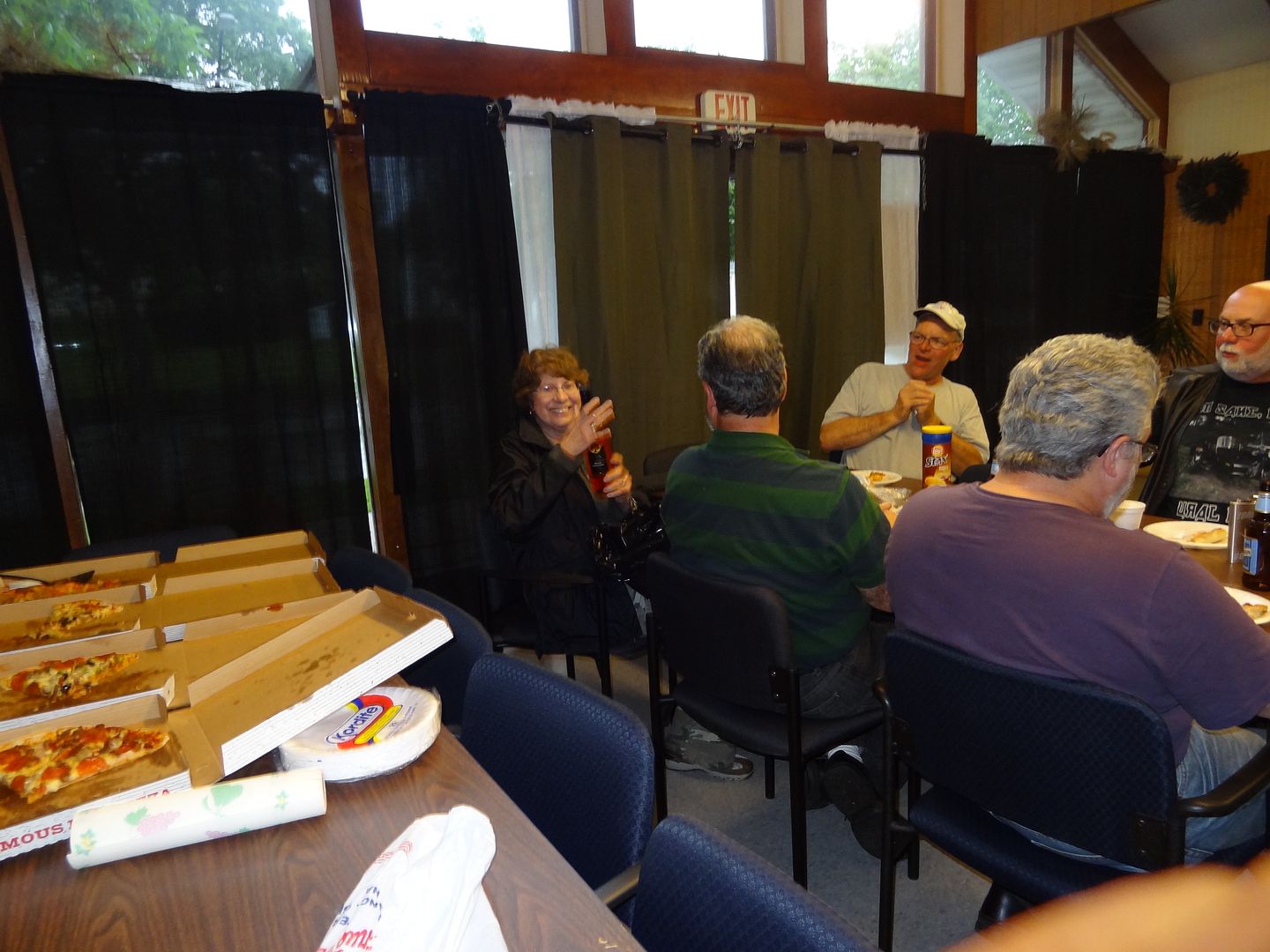 Then it was time for the box full of door prizes that Terry and Pat Crawford from Crawford Sales sent to me. First off was the Ural glasses for the ladies.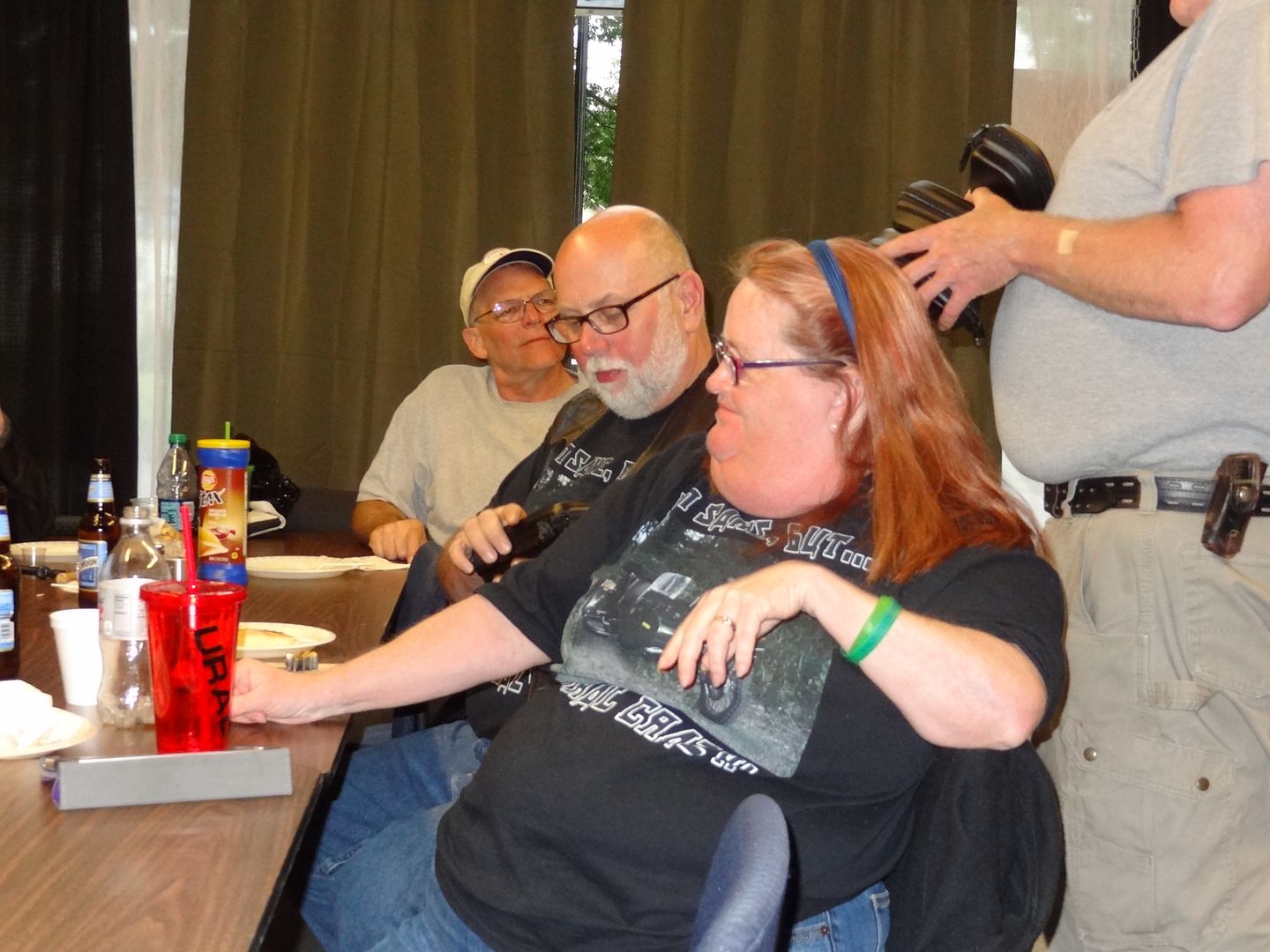 Then it was the oil change kits for the guys.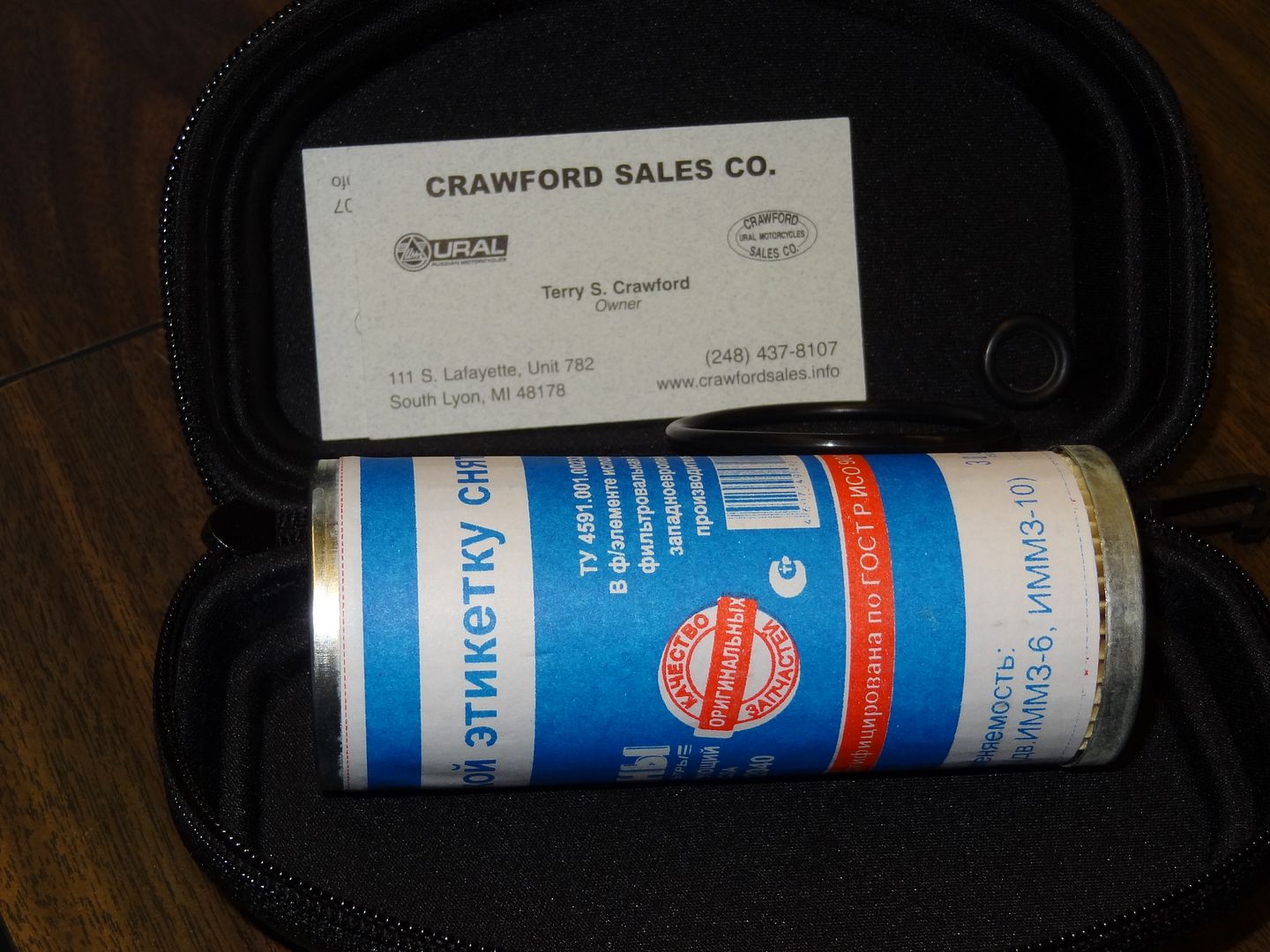 Eric said he had enough oil filters so he would take the empty box as his door prize.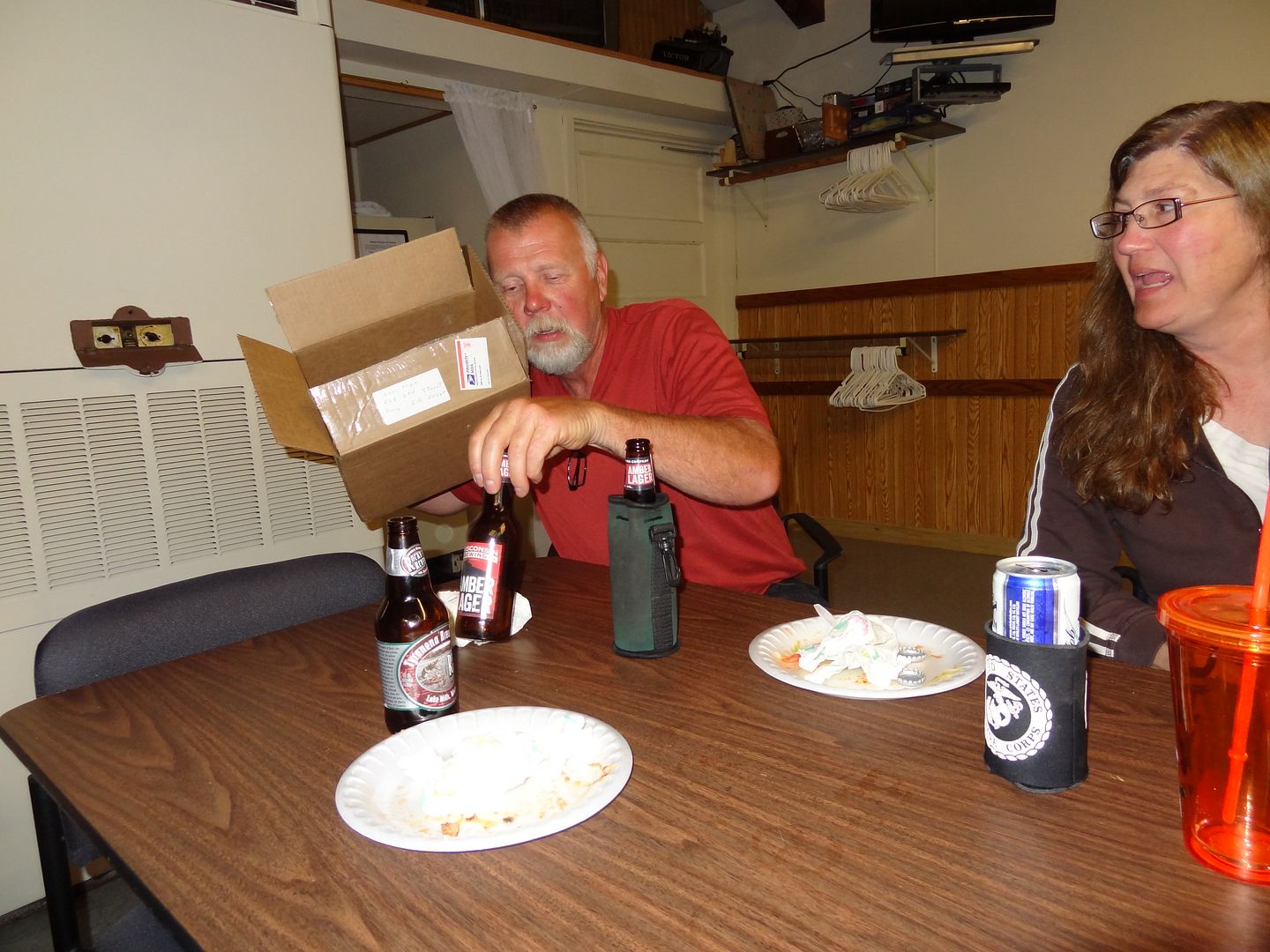 ChicagoRandy had slipped back to Boscobel to get his motel room before we ordered pizza and came back with a bottle of Russian Vodka. Almost all of us enjoyed almost too much it during the evening.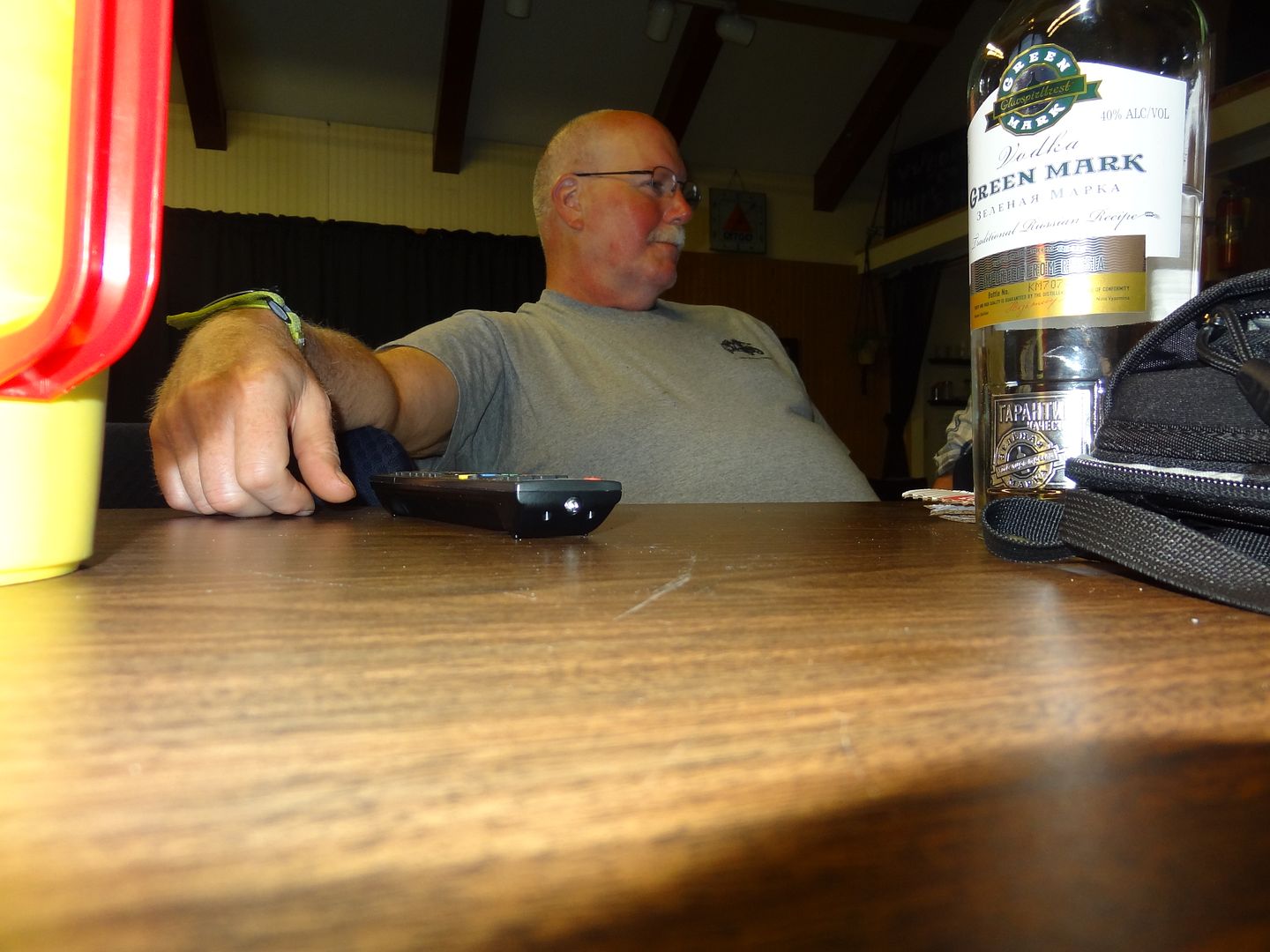 Solving all problems Ural.
That clock was running backwards most all the evening until John tried to fix it.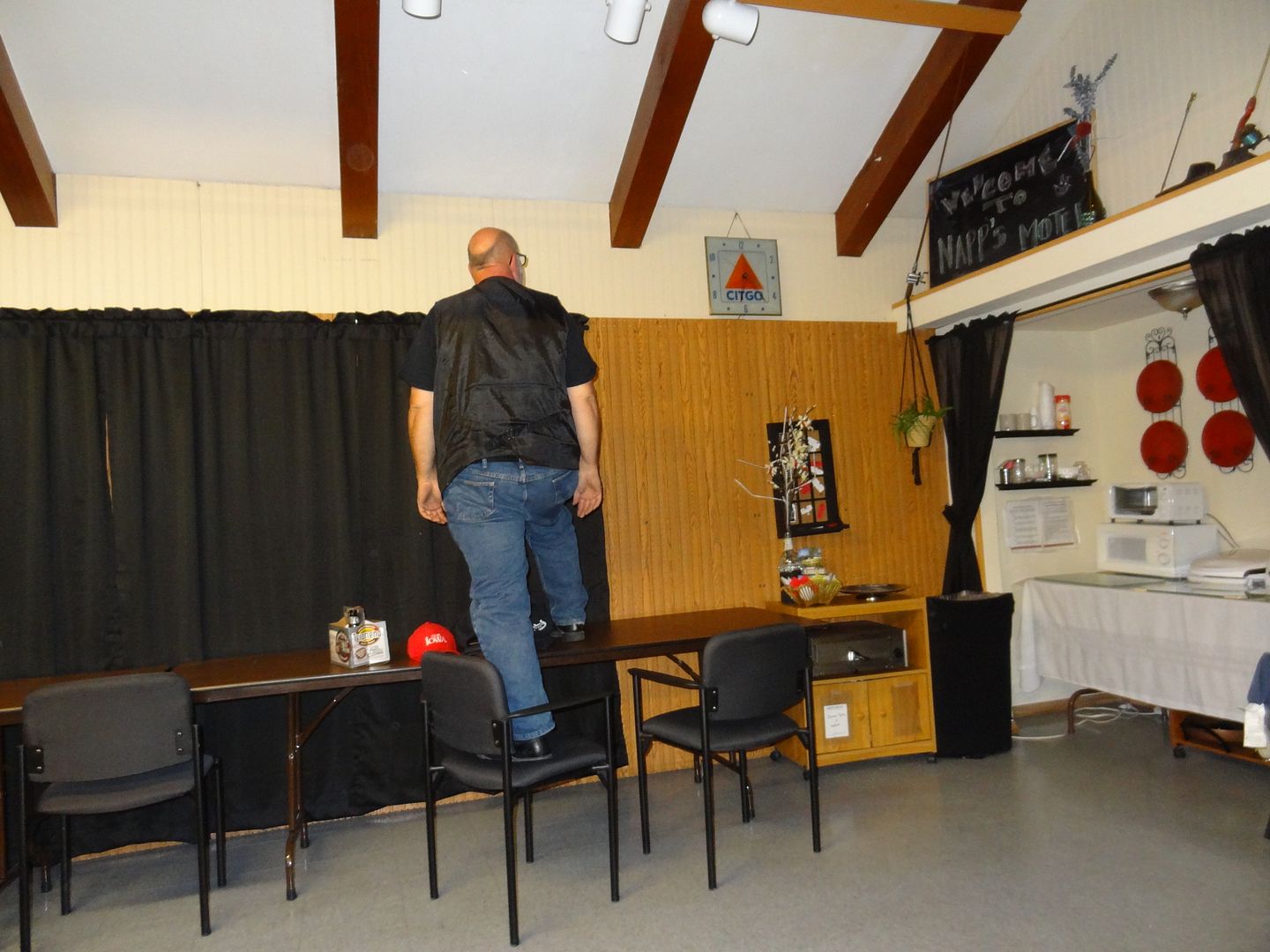 Randy met us on Sunday morning and had reserved a table for us.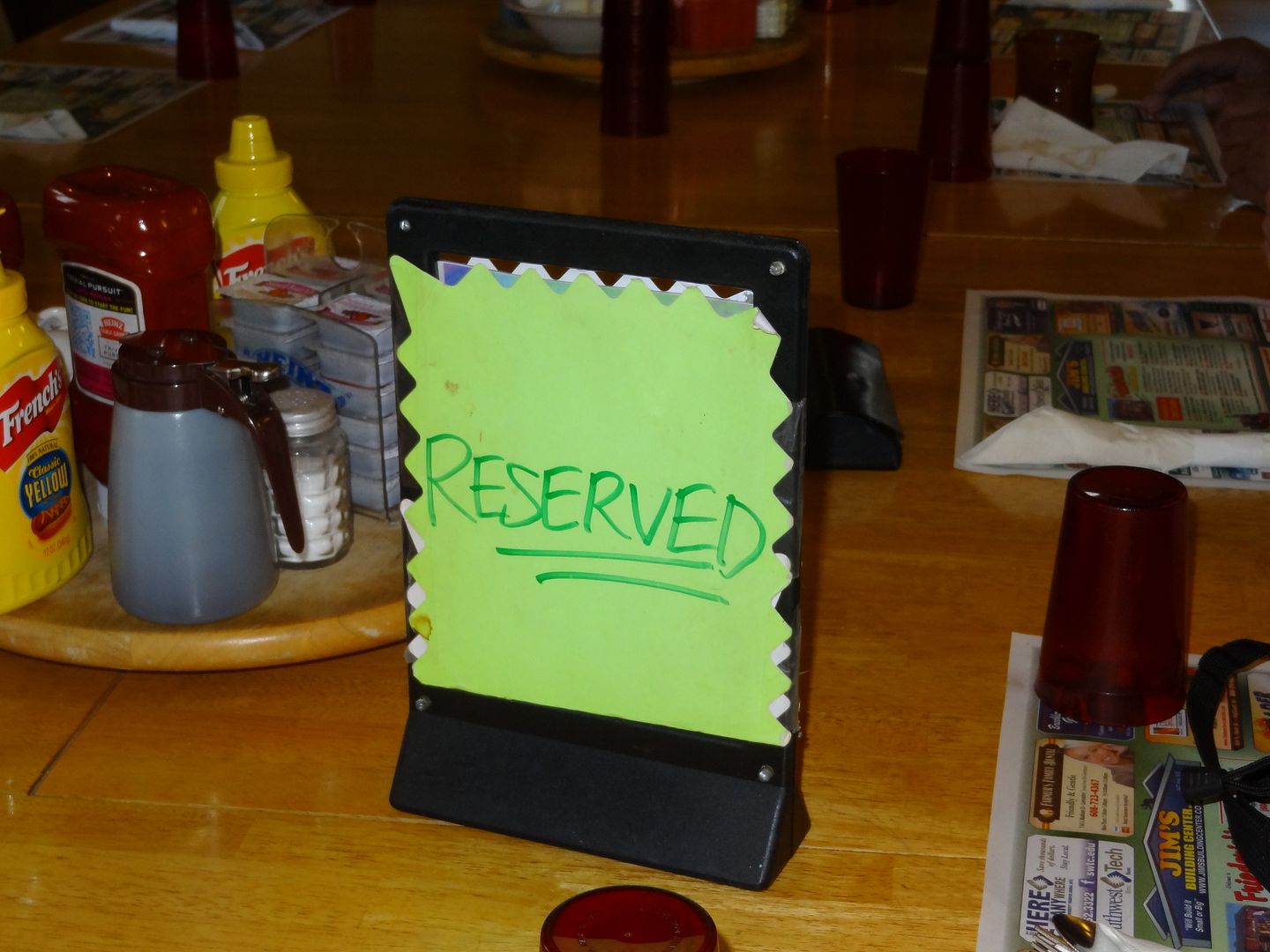 Back to the motel so those that needed to head for home could do so.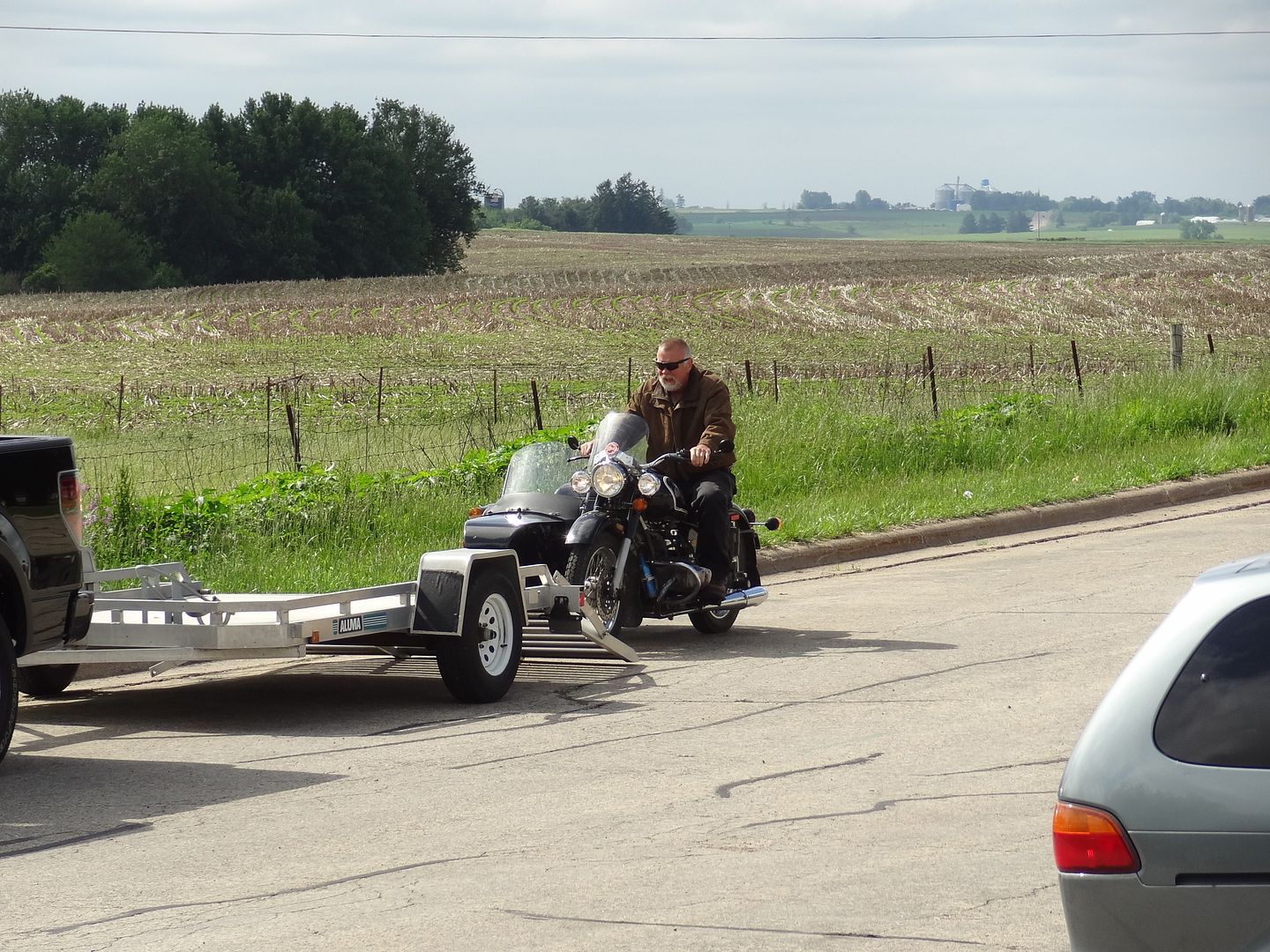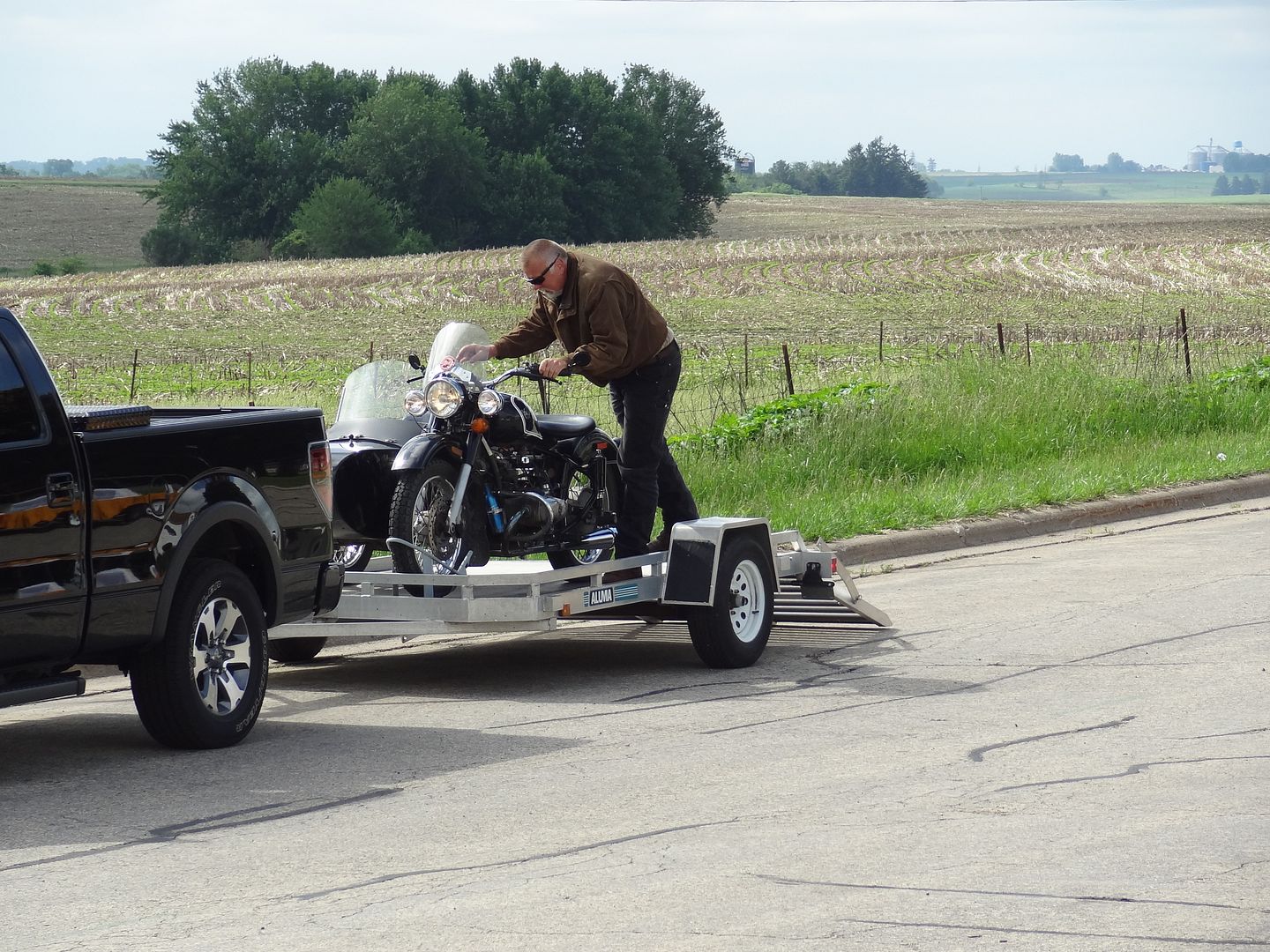 After all was said and done it was Scott along with Nancy and I left to finish off the 3x3x3. As of now we had only been in two states so it was time to head for Illinois to get the third one in. These tow photos are in Cube City, Wisconsin where they have all of the Presidents listed.
Next we wandered down to New Diggings, Wisconsin which is a very old town with two "biker" bar and grills. We stopped in one of them for lunch. I think the two Urals were the only non-V-Twin motorcycles in the whole town. And Scott and I were the only drivers that were now wearing just a t-shirt, a leather vest, or a leather jacket. And out bikes were the only ones that were below 190 decibels. No pictures here because if you seen on HD type you have seen them all.
After lunch I knew that there was a very old church in town and I thought Scott might like to see it. I drove up to the church and ask Scott of he wanted to stop or keep on riding. He said lets take a look at it. It turned out to be the best stop of the weekend. When we pulled up to the church there was a shelter house across the road and two older gentlemen were sitting at one of the picnic tables. Once we started to get off the bike they started to wander our way. I thought they were just wondering what in heck we were riding. It turn out that the church is open for tours from 1 to 4 PM on Sundays only during the summer months, and these two were the tour guides that day.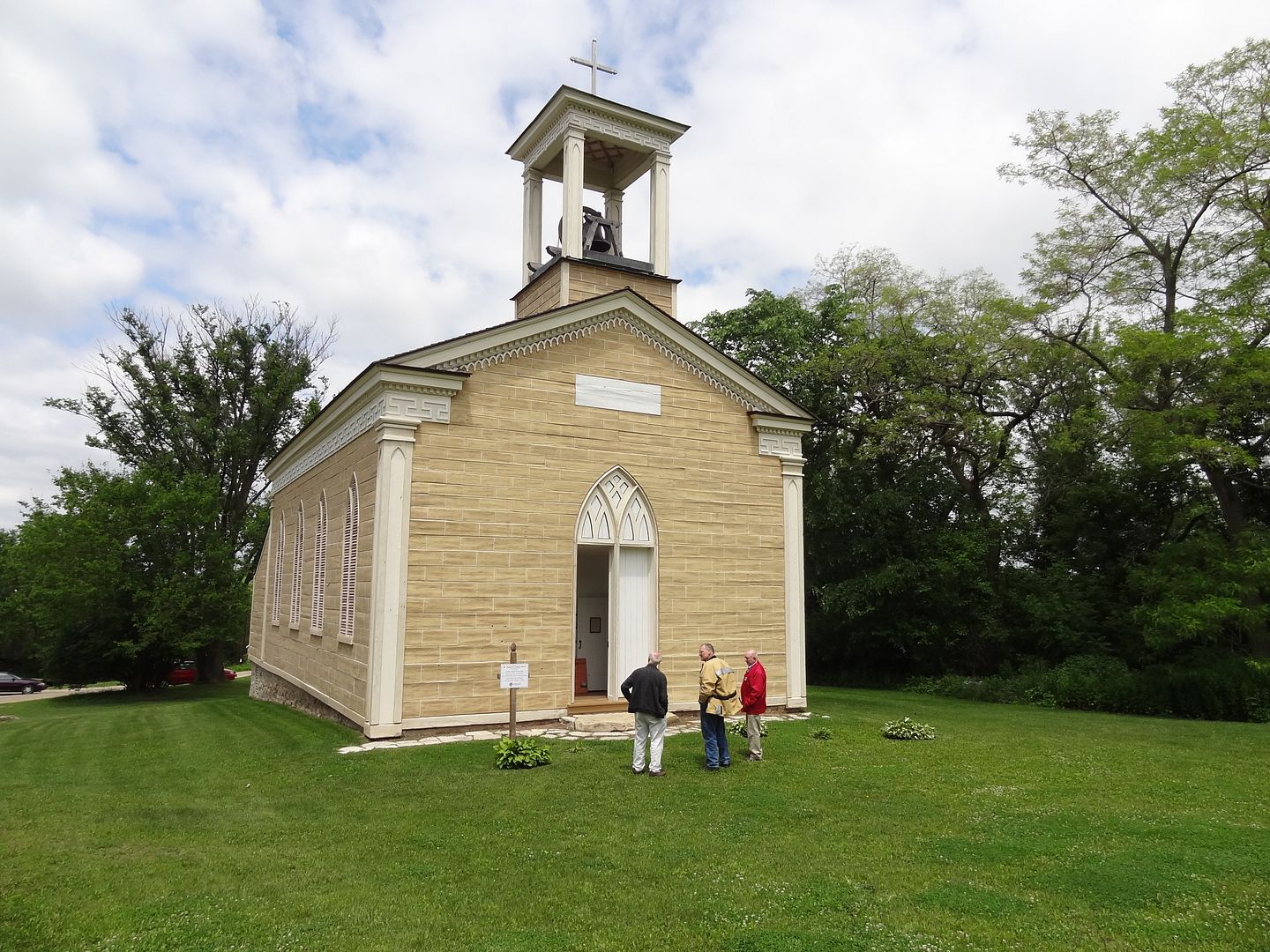 What is the church built out of?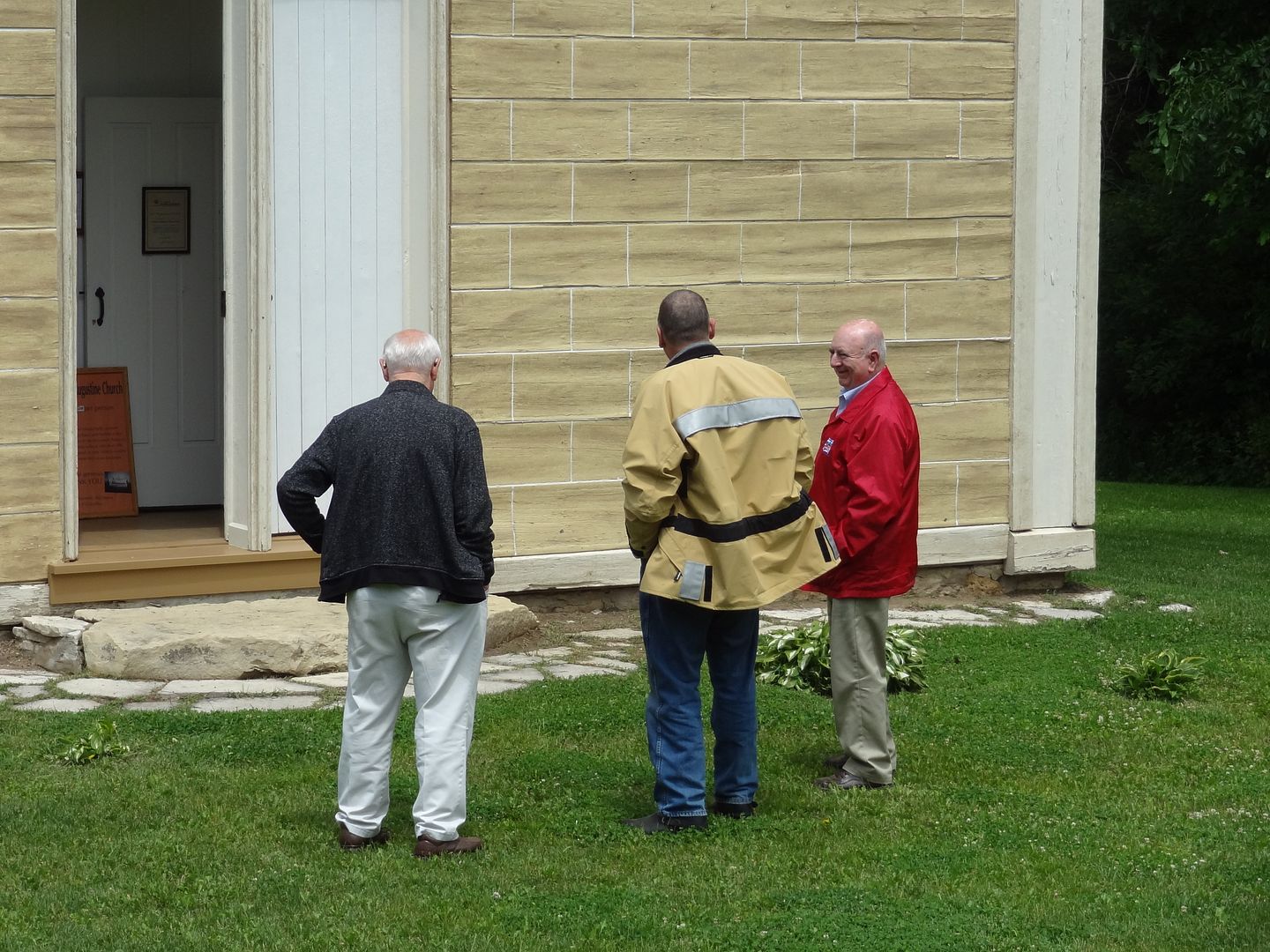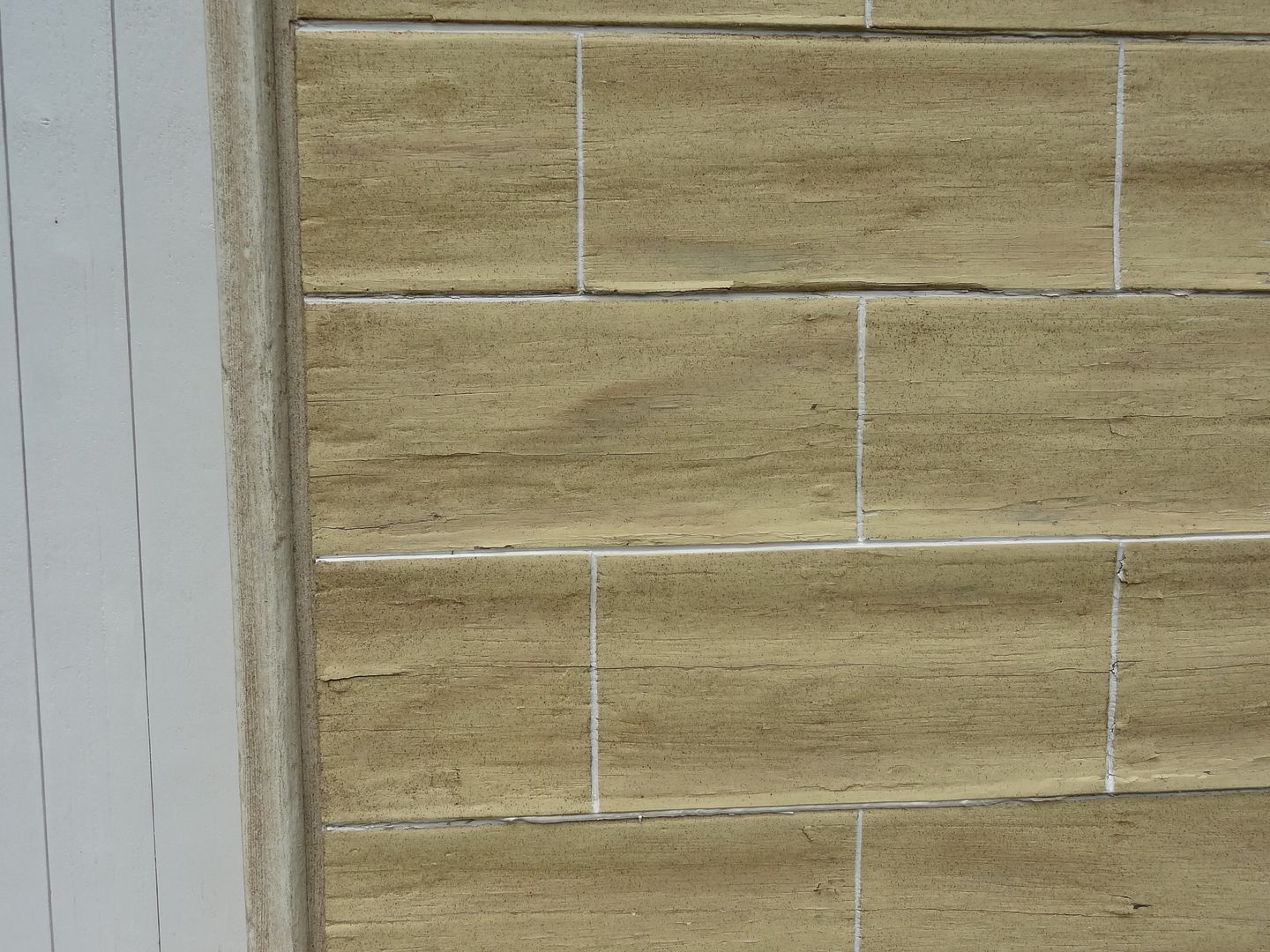 Anybody need to stop here before I go on?
Here is one of the gentlemen showing us the trap door that lead to the classroom in the basement so the children did not have to go outside in bad weather.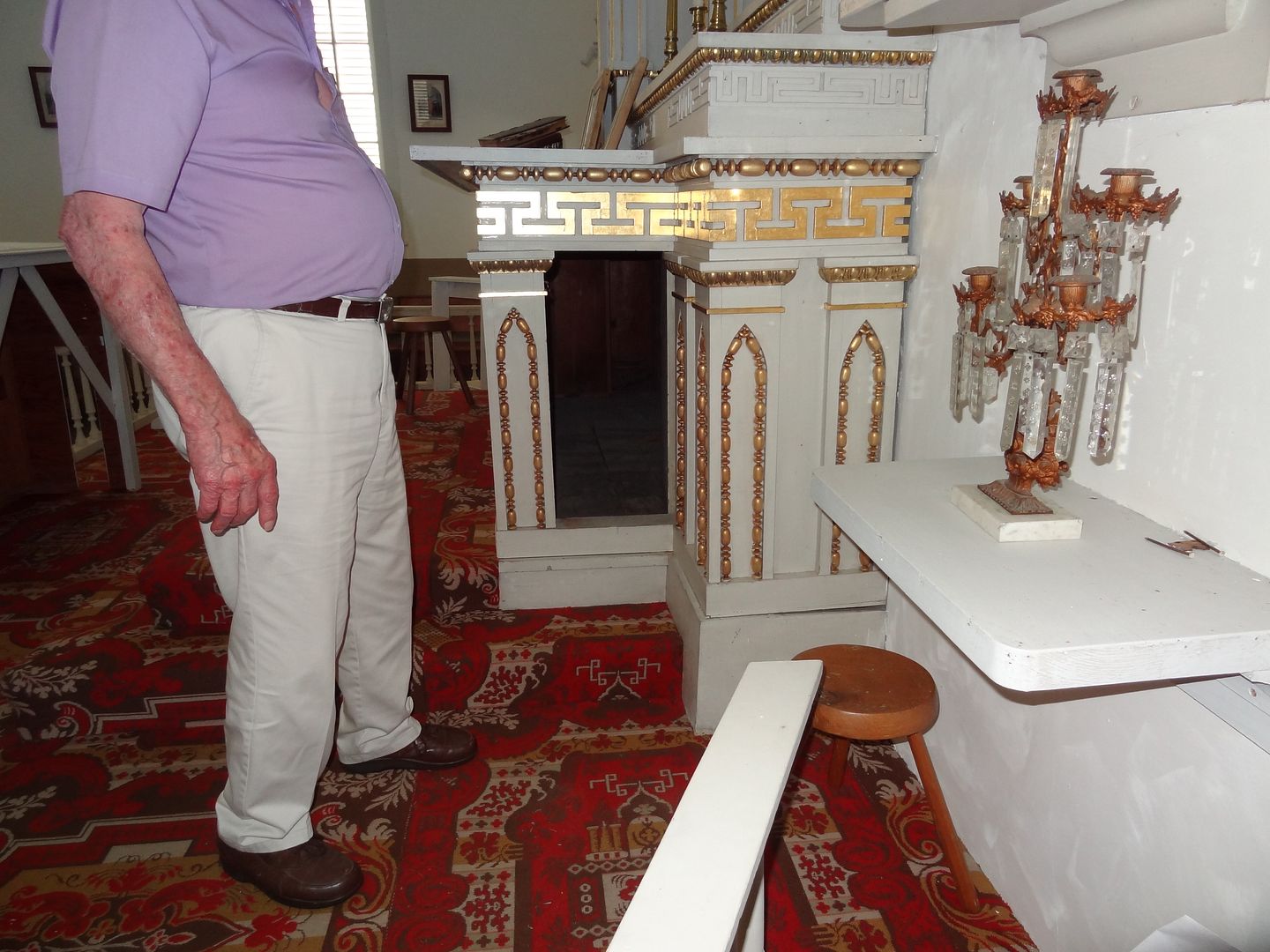 One of these old fellows was a WWII vet and the other was a Korean War vet. Both were great to talk with. After our tour and thanking these tow gentlemen for their service it was time to head down the road about two miles to hit Illinois. After a few miles in Illinois it was time to head back to Knapps and wrap up another 3x3x3. I know some of our group took some road photos that I hope they add on to here. It is hard for me to lead the group, drive the bike and take photos at the same time.