Well today has been one of those days where I should have stayed in bed. It started with a quick 15 minute welding job that has now turned into 5 hours with a Mig welder that is acting up, I tried fixing a floor fan and in the process found out it was a seized bearing that for some unknown reason the Asian manufacturer assembled it in place on the shaft so there is no way to replace it.
So with that aggravation in mind I said the hell with it I need to pick up a new tip for the welder so I'll just shoot off to Aubuchon and grab some on the bike. Well I generally do a thorough check pre ride but today I was a bit grumpy and just wanted to quickly ride to Aubuchon and back so I kicked it to start did a quick light check while waiting for her to warm up and then I was off.
5 miles later I was in the parking lot and then in the store for the parts. While checking out I see UDF hovering over the bike and in my mind I say to myself not now I'm in a hurry, but with a smile I walk out and greet him and start the usual 20 questions. Well he asks me and I quote..."Can I ask you a strange question?" Sure go ahead. "Why isn't there a bolt in that hole?" Well he was pointing to my rear axle and I figured it was the same question I've heard a hundred times so I'm all ready to explain that that is how you take the axle out when I look down and see....
Oh crap I had taken the rear wheel off the other day to adjust the brakes and apparently never tightened it back up. Well with a stone dead face I said..."Apparently because I'm a frigging Idiot and never tightened it up the other day when I worked on the brakes....good thing this bike has enough redundant systems that it will hold together with out some of the parts..." He said "Wow my old HD would have fallen apart on the first turn if I'd done that." I handed him a card to VT Cycles shook his hand and thanked him for pointing that out and immediately walked back into the store for a new bolt and Nylock nut. She now has a new shiny accessory.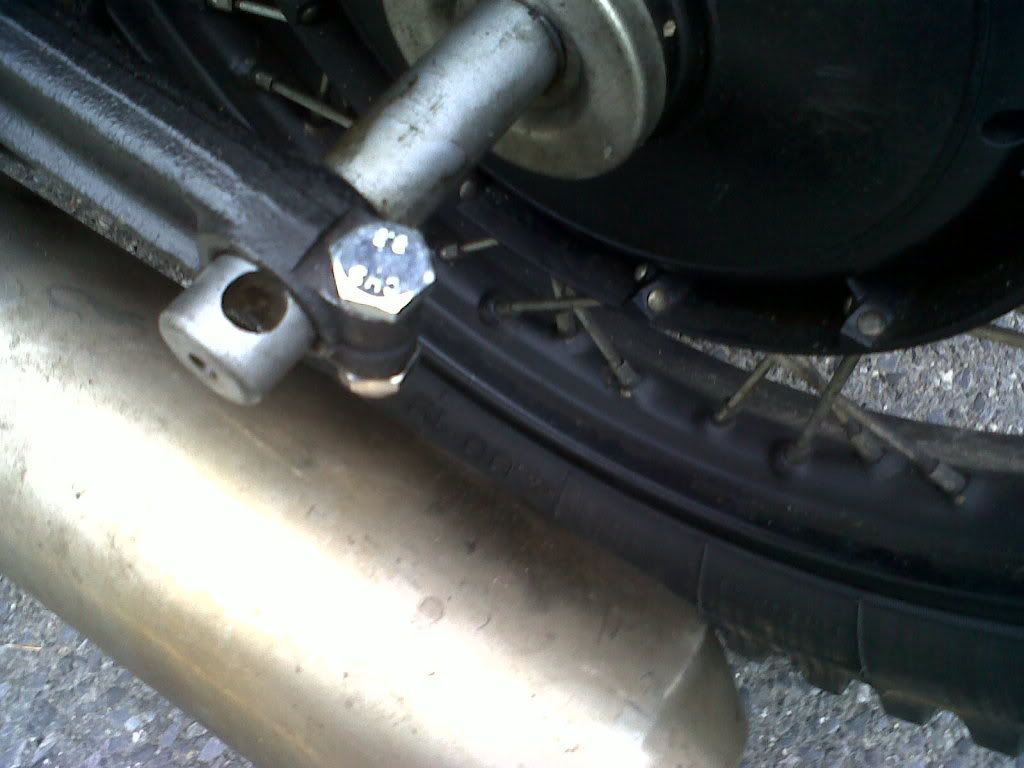 So the moral of the story is
NEVER BLOW OFF UDF
it could save your butt some day!