Forum rules
This is the place for general discussion about motorcycles and life in general. No political posts. Use The "Other" Toy Box section for other bikes, guns, collectibles or hobbies.
I drained the oil from the engine and transmission of my '07 Patrol, and managed to mix up the two drain plugs. Can anyone tell which is for the engine and which is for the transmission? Photo attached. Thanks.
Rob
2007 Ural Patrol
---
My photo of the two drain plugs doesn't appear to have posted in my original inquiry.
You do not have the required permissions to view the files attached to this post.
Rob
2007 Ural Patrol
---
Order of Lenin

Posts: 1028
Joined: Thu May 29, 2014 4:00 pm
Location: Sonoma County, Calif.
Based on this:
http://www.sovietsteeds.com/forums/view ... hp?t=30736
left to right, Dipstick, FD, Trans Drain, Trans Fill, Engine Drain.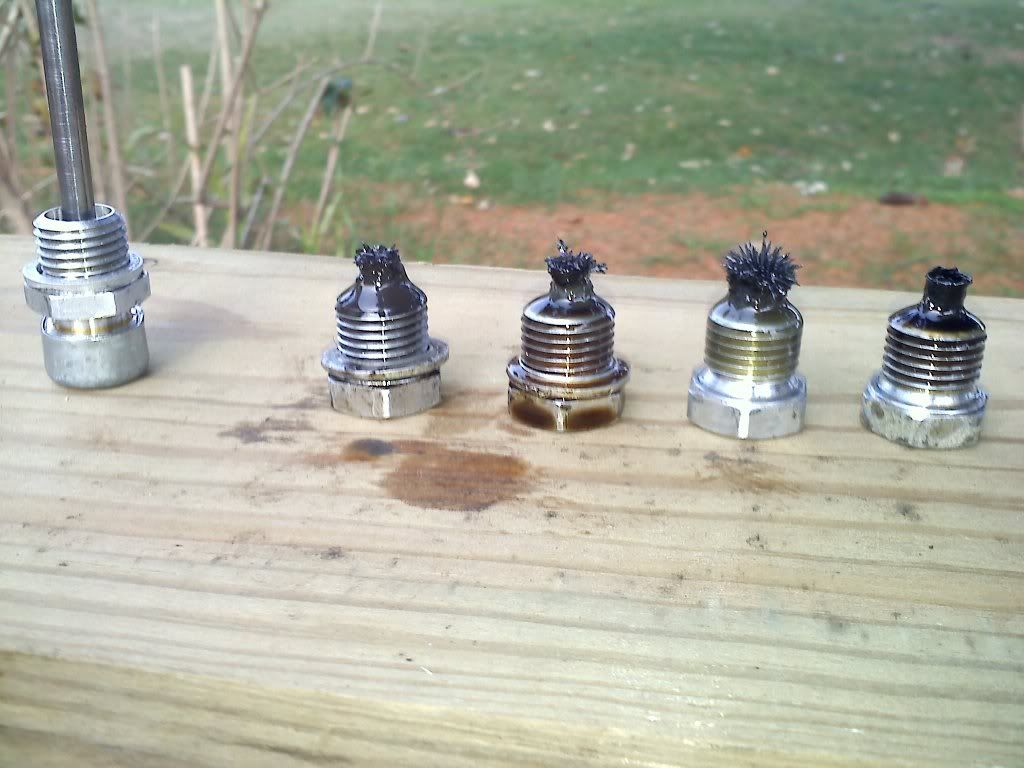 They all look the same
Sgt. USMC 0311, 8156

2011 Gear-Up "سميرة" (Samira). Gone, it not forgotten
---
The one with the longer magnet may be an aftermarket unit. FWIW, on mine the transmission fill and rear end tend to pick up the most fuzz once everything was broken in.
Past afflictions include limey motocars and bikes, R60/2, R65ls, & a Citroen.
Now a DB Haanjo and Canyon CF SL Endurace, '87 K75s,
and a rusty 2012 GU bought new
dual K&N cones on homemade intake, 40/137.5
Raceway needles, Modtop exhaust, E starter delete
$29 VW Hydraulic steering dampener
---
Thanks very much guys. Very helpful. Oil goes in today.
Rob
2007 Ural Patrol
---
Thread tape.
Still like Charlie Chaplin's 1940 talkie "The Great Dictator"; had to abandon it as the inspiration for the theme of my Ural's paint scheme. People can't seem to tell satire from support. Too much public education.
http://en.wikipedia.org/wiki/The_Great_Dictator
2011 Gear Up from V.T. CYCLES, Pwr Arc Ignition, sprayed USMC 383 Green w/blacked engine/exhaust
---
I put a nitrile O ring on all my plugs - no leaks.
07 Ural Patrol Русский кусок дерьма
10 Triumph Bonneville
06 BMW R1200RT with Hannigan Sidecar
---
Hero of the Soviet Union - 2020

Posts: 5349
Joined: Sun Jul 15, 2012 5:43 pm
Location: Aurora, Ohio 44202 (SE of Cleve)
This belongs Hammerin thread.
Hal

2011/12 Tourist - "The Russian"
It's a long list.
2014 Patrol - "Blackbird"
---